OCHS Vizslas - Kansas Vizsla Breeders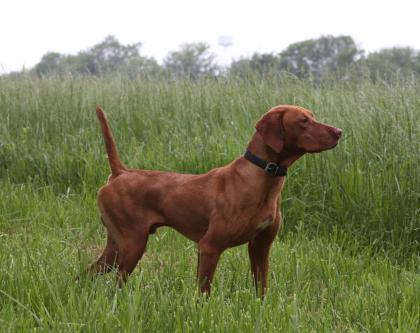 About OCHS Vizslas
Beginning in the late 80's, our family purchased our first Vizsla (Hawk) as a hunting dog. Fast forward to 1992 and I purchased a Vizsla puppy from a backyard breeder and named her Sadie. A short 12 months later, Sadie never really developed to be the hunting dog I expected during her first season, she was sick, and passed away after spending thousands on veterinarian bills. The experience made me determined to get a healthier dog that was a better hunter and spend the money necessary to insure success. I named her TWO because I couldn't think of a better name and, after all, she was my second Vizsla. As a puppy, we entered her in NAVHDA Natural Ability and she received a perfect 112 point score. We had begun entering walking field trials with Hawk and he pretty much won everything. So, we entered TWO in a few field trials and briefly delved into "Pheasant Championships" (score based for time, points, retrieves, used shells, etcetera) with both TWO and Hawk and did fairly decent in those for not having any previous experience. I specifically remember Hawk making a 400 yard retrieve on a wounded pheasant and even though it took a couple minutes, we still placed that day. Having grown up in the country with horses and with hunting, we quickly became more involved in walking and then horseback field trialing. My first litter was in 1997 and produced a dog we named Pappy - Dry Creek Pappomatic, to be exact. Pappy was originally placed in a pet home but after several months was returned due to the lady travelling too often. Pappy went on to have a very successful field trial career. His AKC National Field Trial Placements included 2002 R-U National Amateur Champion, 2004 R-U National Champion, and 2006 National Champion. His American Field National Placements included 2005 National Amateur Champion, 2005 National Quail Classic Winner, 2006 R-U National Champion, and 2006 National Amateur Champion. With Pappy, you always knew you were going to be a contender. You also knew that if you went wild bird hunting that you would get 100% effort out of him and only go birdless if there were no birds to be found. His nose and temperament were excellent traits. In about 2005, we bred Pappy to a nice bitch and kept a male pup that we named Foofur - great story, but you'll have to ask how we came up with the name; the short version is he was a cartoon dog character in the early 1980's - who I felt would be the dog to replace Pappy. As a Derby dog, he garnered a 2nd Runner-Up National Derby placement. At 27 months of age, he won his first broke dog horseback stake. Before 30 months of age, he sustained an injury that took several months to diagnose and resulted in being retired from field trialing. Foofur went on to sire one litter where we got 3 puppies. I kept 2 of those pups and aptly named them Boots (Male) and Bling (Female). I gave the 3rd pup to a client/friend of mine who had recently lost his hunting dog. That litter was whelped in 2007 and renewed my interest in field trialing. Boots, as he is known to most people, is a handsome solidly built dog that covers the ground in a manner that most, if not all, upland dog hunters would really appreciate. He was the pup that when gang running a couple of litters together would break off from the others and on a couple of occasions even pointed wild coveys as a 3-4 month old pup when the others were playing grab ass. We knew he would be special but we didn't realize just HOW special. The following paragraphs lay out some of his greater accomplishments prior to turning 4 years of age. Boots won the largest AKC Puppy Stake ever recorded - 35 participants at a GSP trial at Branched Oak, Nebraska. He was pulled from AKC Competition as a Puppy after receiving his Derby Points but was still #2 VCA Puppy/Derby in 2009. He won his first large AKC All-Breed Broke Dog Stake prior to turning 2 years old - 21 months of age, I think. He has several AKC ALL-Age Placements. Other Pertinent Information: Sire: Boot Scootin Boogie (Boots) Date of birth - 11/3/2007 Health checks - OFA Good, Thyroid Normal, DNA through both AKC and FDSB Boots Notables: 2008 NVA Quail Derby Classic Runner-Up 2009 NVA National Derby Classic Winner 2009 #2 VCA Puppy/Derby Top Ten (littermate Bling Bling was #10) 2010 NVA National Amateur Champion 2010 NVA National Champion 2010 National Open All Age Classic Winner 2010 Western Shooting Dog Classic Winner 2011 Western Shooting Dog Classic Winner 2011 National Open All Age Classic Runner-Up 2011 National Quail Championship Winner Boots' littermate sister, as I mentioned above, is Bling. With so many positive things to say about Boots, she usually gets overshadowed. If Boots is my field trial dog, I would say that Bling is my other field trial dog. But, I can put the Garmin on and take them both hunting on any given day. Last weekend (New Years Eve 2011), I took both of them out. Bling had puppies that were 7 weeks old and hadn't seen birds or been out of the yard since the first weekend of May. But, she honored Boots through the first find, shot, kill, and retrieve. Not too bad for a dog that just turned 4 years old with puppies and fat as a tick. Bling Bling is a slightly built bitch that is mild mannered in the home, and full bore in the field. She is unbelievably fast and only knows two speeds - all out or not at all. Bling, in her own right, has accomplished many notable placements which have many times been overshadowed by her littermate brother, Boots. Other Pertinent Information: Dam: Bling Bling (Bling) Date of birth - 11/3/2007 Bling Bling Notables: 2008 VCA National Puppy Winner 2009 #10 VCA Puppy/Derby Top Ten 2009 Runner-Up NVA National Derby Classic (Boots was the Winner) 2008 NVA Quail Derby Classic 2nd Runner-Up (Boots was the Winner) 2011 Western Shooting Dog Classic Winner Runner-Up (Boots was the Winner) It seems that with each litter produced from our breedings has produced a notable dog or two when given the chance. For that reason, I have decided to start a Gun Dog Breeders profile and possibly get into breeding more litters. It has been 4 years since our last litter and it seems like it would be a good time to get a fresh start on a new hunting companion. After all, we hunt first and field trial to pass the time in this family. I'm sure it will be of interest to some that I have been active with several dog related organizations including the Show Me Vizsla Club (SMVC) as a Director, have served on the Field Trial Committee for the SMVC, am a member of the Vizsla Club of America (VCA), and have served on the VCA National Field Trial Committee. My most involved commitment to a dog organization has been to become a member of the National Vizsla Association (NVA) where I served on the NVA Board of Directors for a few years prior to becoming the Treasurer, Secretary, National Field Trial Chair, Membership Chair, National Events Coordinator, returned to the Board of Directors for a year, and have recently taken back on the Treasurer duties. The commitment to the NVA and American Field horseback field trialing began at the turn of the century and I don't see it ending any time soon.
Hunting Dog Breeds Raised
Vizsla
Additional Services
Stud Services
Breeder Contact Info
Testimonials (10)
Submitted by: Joel H on Jan 19, 2017
We bought Chester in 2005. He is strictly a family pet, but has been amazingly healthy and is still going strong. His temperament is wonderful - gentle, energetic, loving, playful, & unafraid.
Submitted by: Amy Ochs on Feb 19, 2012
My husband enjoys being able to produce quality offspring. We, as a family, do not breed for the monetary aspect. Our intent is to further the breed by choosing traits that are admirable. We were lucky enough to be able to have our the bitch in our home and whelp the puppies our selves. The puppies have been well socialized with other dogs as well as children. I am not necessarily a big dog person but I can't help but love this breed for their demeanor.
Submitted by: Brad on Jan 25, 2012
I have purchased 2 pups from this breeder.
Great dogs ... Great bloodlines... Breeder really knows his dogs.
Submitted by: John on Jan 20, 2012
I have purchased four vizslas throughout the years from the Ochs. Three directly from them, and one that was sired by a dog of his.
I am involved in vizsla rescue and field trial vizslas in vizsla trials and trials that are predominately pointers. I see many different vizslas and dogs in general. The vizslas that I see in rescue while are tremendous pets, not something that I would want to keep to hunt. I have seen many different types of vizslas produced by other breeders and when people ask me for a reference for a breeder, Dustin's dogs are at the top of a VERY short list of four or so breeders that I would recommend. I have been asked many times on various different pointing dog boards for recommendations and every time I don't hesitiate to recommend Dustin's dogs. His dogs are competitive in pointer trials, can hunt all day, and sleep at the end of the bed at night. They are very trainable, do well in the house and hunt like hell in the field.
Dustin has been extremely generous with his time and advice. His pups are very socialized and raised in a family environment. They are health tested, and Dustin is very active in field trial community. He also actually hunts his dogs as well. Conformationally speaking, one of the dogs that I purchased from him has also done well in the show ring as well. His track record speaks for itself with his dogs having several championships on them. This is not a case of his dogs having a championship two or three generations back and him claiming to have a championship line. His dogs win in both the AKC and the AF and will hunt all day as well. And they will do it with style and drive. I cannot recommend Dustin and his dogs highly enough. If you would like you are free to email me more to discuss his dogs as well.
John
jwm1784@yahoo.com
Submitted by: Ray C. on Jan 19, 2012
We just got a pup from the Ochs and he's a good one. We're excited about his future in field trials.
Submitted by: Tamara W. on Jan 19, 2012
We purchased our bitch 9 years ago from the Ochs Family. Copper has been a fantastic dog for our family. She is extremely friendly with all dogs, kids and people. She is now too old to hunt as much as she once did, but she does enjoy going to the farm and hunting for shorter periods. She showed natural ability from the first time that she hunted. She has always been eager to please, with that need for family contact (velcro Vizsla for sure). When the time is right we will definitely be contacting the Ochs family for another dog. Thanks so much to them for giving us a chance to buy a wonderful bitch! Tamara W.
Submitted by: Laura Miller on Jan 19, 2012
I used OCHS vizslas' "Pappy" as a stud-dog to my Stella in March 2007 and got a wonderful, healthy litter of pups. I still co-own one of these pups who is on his way to being a dual champion. OCHS vizslas have continued to be a long term friend and mentor to me.
Submitted by: B Stokes on Jan 18, 2012
I purchase Buster from a breeding that used one of OCHS Vizslas stud dogs, "Pappy." Pappy was well accomplished in the field. He has many national wins to his credit, but nothing could compare with his personality. Buster has that same personality...sweet, lovable, at the point of being pleasantly mischievous. I've had other vizslas, but Dustin raises, and has some nice temperaments and lots of hunt in his dog. He proves it in the field and the dogs prove it in the home.
Submitted by: George R. Noren on Jan 18, 2012
I have hunted and campaigned Viszlas for 5o years and as a result have come to appreciate quality pedigrees and kennels. With that being said , I currently own a young male from the Ochs kennel and couldn't be more pleased!
A wonderful disposition -loves humans and canines of all ages. Fantastic style , independent , natural hunter with drive!! May well be my next FC.
The Ochs line is one of the best( if not the best ) available for one who wants a hunting dog.
GN
Submitted by: Jennifer J on Jan 18, 2012
Wonderful dogs. Our Vizsla is friendly,beautiful,the best dog we have ever had. She is quiet, listens very well, calm and hunts successfully in our small backyard. I would get another vizsla from this breeder with out question.
Submit your testimonial