Autumn Classic Kennel - Kansas Vizsla Breeders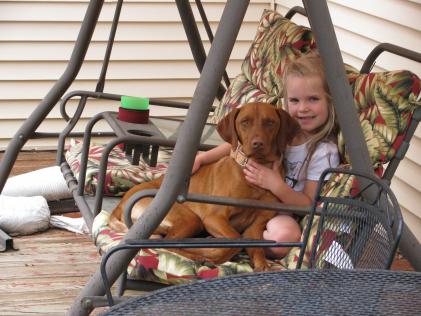 About Autumn Classic Kennel
We started breeding vizslas in 1996 when my then ten year old son asked me "Don't you wish everybody had what we have (in a hunting dog and pet)?" So about twenty years later we still try in every way to preserve or improve the vizsla breed. We belong to the Vizsla Club of Illinois. Our parent's - (Ruger - Male) paternal bloodline background comes from the National Field Champion "Touchdown Guy" and (Riley - First Female) paternal bloodline comes from "Rebel Rouser ET" with five straight Hall of Fame background and has produced at least thirty-two Field Champions.(Raany -Second Female) has some Touchdown Guy in her as well as CRIMSON'S TWENTY GAGE RUGER. I really like what I see in her! Our integrity is vital to our business. We wouldn't have it any other way. Our motto is "Come as a customer, leave as a friend." DISPOSITION, DISPOSITION, DISPOSITION! . Prices - Males - $1500 and Females $1500 for Fall of 2019.
Hunting Dog Breeds Raised
Vizsla
Breeder Contact Info
Testimonials (3)
Submitted by: Brandon on Apr 14, 2017
We got a male puppy from Terry and named him "Rocky". Rocky is very calm, yet adventurous when hunting. We took him hunting as a small puppy and he never hesitated following the older dogs into thick cover and finding birds. He is a very quiet pup. The only time I have heard him bark is when he found a snake in the grass. Rocky is also good with our kids ages 4 & 6. He is a great looking dog and seems to be very intelligent. Terry at Missile Lock Kennel equipped us with books and information on how to succeed with our new puppy. We would get another pup from him in the future without and hesitation.
Submitted by: Brian on Apr 02, 2017
About 4-months ago we purchased our first family pet, a Vizsla puppy we named "Copper". Terry was very helpful, honest and accommodating to letting us visit multiple times, meeting the dogs parents, answering all of our questions, and also providing plenty of information about our Vizsla. Copper has been a wonderful addition to our family, which includes 3 children ages 2, 6, and 8. Copper is very gentle, has an amazing demeanor and loves to run and play. Countless guests to our home have made comments at what good temperament he has. Even our veterinarian has made the comment to us that our Vizsla is one of the best Vizsla's they have seen. As he gets older and our weather gets warmer we look forward to seeing more of his point and how he can work in the fields! Great experience working with Terry and we love our Vizsla!
Submitted by: Becky Senske on Mar 24, 2017
I bought a beautiful male Vizsla puppy from Terry. I named him "Sebastian". Terry was very helpful and gave me excellent advice and materials so I would better understand my Vizlsa puppy. Many people have commented what a "handsome" dog he is and what a wonderful temperament he has. Sebastian is a well- travelled companion and has already travelled to three states.
Submit your testimonial