Dillows Duck-N-Mad Retrievers - Kansas Chesapeake Bay Retriever Breeders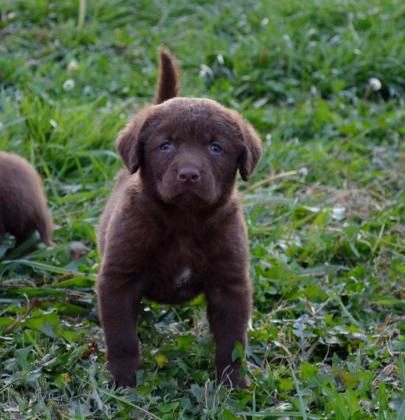 About Dillows Duck-N-Mad Retrievers
We are a small kennel facility that has raised Labrador Retrievers for 10 years. A few years ago we fell in love with the Chesapeake breed. We now have Chesapeake puppies for sale from time to time. We currently have 10 puppies available. This breeding specifically took place to add to my husbands hunting stock. We used an outside stud who has a fantastic pedigree filled with nothing, titled hunters and show champions. They are beautiful puppies, with great temperaments. We decided to wait until the puppies were older before we offered them to the public. They will be able to go to their new homes starting November 25th, males and females available. We welcome any questions. Thank you
For the most current photos please visit our facebook page at: https://www.facebook.com/groups/275741302547322/

Hunting Dog Breeds Raised
Chesapeake Bay Retriever
Breeder Contact Info
Testimonials (3)
Submitted by: Kelly Groth on Nov 06, 2018
Our little chocolate lab was purchased from a pet store at 13 weeks old. Now 15 weeks, this is one smart pup! So well mannered, good with all kids, doesn't bark, sits by door to go out...fantastic dog. Beautiful green eyes, floppy lab ears, and small white marking on his chest. Gorgeous dog, great breeder.
Submitted by: GLENN CORNACCHIA AND DEBRA on Oct 01, 2018
We purchased a beautiful male yellow lab in Long island from a puppy store. This puppy is so beautiful, sweet ,smart and delicious. Bernie is very loving and healthy. I had the puppy driven to Florida where I reside. I would love to have another one that's yellow with green eyes.
Thank you again Tara Dillow .
Glenn
Submitted by: Loraine Coffman on Dec 18, 2015
We have a Chesapeake from duck n mad. Tara has been very kind always responding to all my questions. I love our Chessie he is beautiful in every way. You wouldn't be disappointed.
Submit your testimonial