Bar J Horse Ranch - Kansas Irish Setter Breeders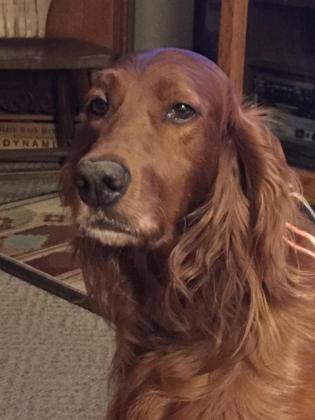 About Bar J Horse Ranch
We're celebrating 51 years of our hunting Irish bloodline.

We are very proud of our Irish Setters. We started raising them in 1969. In that 51 years we have kept our bloodlines going by keeping the best of our dogs ! We also have traveled outside Kansas to other Hunting Irish Setter breeders selecting the dogs that blend well with ours.
We are not commercial breeders or a puppy mill. These are farm raised dogs.

Our dogs will be Dark Mahogany in color, high tails, wonderful personalities, natural hunters and great retrievers. They will point with a high tail and hunt close in for the walking hunter.
Your dog will be your best friend, love kids ! Your dog will be a member of your Family!
Thank You For Your Inquiry, Please Call Me at 316-253-9999
Hunting Dog Breeds Raised
Irish Setter
Breeder Contact Info
Testimonials (4)
Submitted by: Rob Killingsworth on Apr 12, 2021
We acquired our Irish Setter "Boone" on 2/20/21 and he is far and away the smartest dog I have ever owned. Greg and Lori are simply wonderful to work with and they have top notch facilities. Farm raised puppies and can't wait to get him out into the field come pheasant season!
Submitted by: Barb on Mar 04, 2021
We recently purchased an Irish Setter puppy from Greg. We are delighted with her! Not only was she a healthy, well cared for pup, but she is already exhibiting that pointing instinct she was bred for at just 9 weeks of age. We cant wait to see what her future holds!
Submitted by: Nathan Silknitter on Sep 30, 2020
I got my dog second hand after the owner couldn't care for her, so I cannot attest to the conditions of the kennel, but I can praise the bloodlines Bar J uses. My little red is one of the smartest dogs that I've hunted with. Her drive to hunt and desire to please is unparalleled. I couldn't be more pleased. Mr. Johnson has been very helpful and considerate when i've called him with questions about their pedigrees. I would not hesitate to recommend.
Submitted by: Abigail Bohle on Jun 21, 2019
Got my Ru from them last year and was super impressed with how well cared for and the amazing temperament of all the dogs. Highly recommend them!
Submit your testimonial