Water Dawgs Kennel - Iowa Labrador Retriever Breeders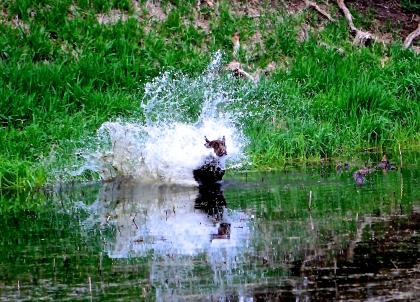 About Water Dawgs Kennel
Welcome to Water Dawgs Kennel . . .

Let me introduce myself.  My name is Will Steding and my wife Heather, and I have been married for 19 years.  We have three daughters, two labs, and a Yorkie (my wife's baby)!  We live in a rural hunting community in central Iowa.  Heather and I have been raised around dogs our entire lives.  As for me, I found the difference between a "companion" and a "performance hunting dog" when I bought my first lab!  During the waterfowl season, my wife becomes what she calls a "hunter's widow" while Tess (my baby) get to live out  the
Water Dawg
dream by spending her days on the marsh, river, or lake retrieving ducks with me.
Things I do with our Water Dawgs:
Duck hunt as much as possible. This is why I spend so much time training throughout the year.
Goose hunt as much as possible.  This too is why I spend so much time training throughout the year!
Obedience training.  This is the ground work for a performance lab.  Without discipline all other training, hunting, and life in the house will be impossible.
Training time!  My labs enjoy training.
Hunt test.
Tess competes in North American Hunting Retriever Association (NAHRA) hunt tests.  This is for two reasons:
To give Tess the opportunity to "hunt" out of season.
To earn titles as proof of her ability to hunt to the highest of standards.
Our hope for you as a future Water Dawg owner is that you spend time with your pup.  This time together (including socialization, obedience, and hunt training) is very important in so many ways.  Labs will retrieve - that's what they're bred to do.  Some will trot and take their time . . . your future Water Dawg will FLY!
Hunting Dog Breeds Raised
Labrador Retriever
Additional Services
Training
Breeder Contact Info
Our Pedigrees
Testimonials (0)