Wapsi River Griffons - Iowa Wirehaired Pointing Griffon Breeders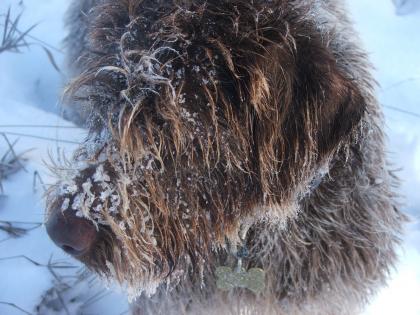 About Wapsi River Griffons
Welcome to Wapsi River Griffons. We are located in eastern Iowa, near Davenport. We are now in our 5th year of raising WPG and are excited to see them grow and develop. I have been raising border collies for nearly 24 years and use the same technique in raising our Griffs, that have worked so well with the borders. I start the pups first few weeks with neurological stimulation and continue handling and socializing the pups as they grow. The pups will be ready to go at 8 weeks of age, and shipping is available at additional cost. My website is now ready and we have pictures, bio, and pedigree of the parents for you to veiw. http://www.wapsirivergriffons.com/available-puppies. We own both sire and dam to our litters. Our dogs are OFA certified with good or excellent hips and we have not had any genetic disorders arise to date. Our bloodlines are from solid hunting stock from Idaho and Nebraska. We love how natural and easy these dogs are in the field with minimal training. If you make this dog your friend at home, he will be happy to help you find those birds in the field!
Hunting Dog Breeds Raised
Wirehaired Pointing Griffon
Breeder Contact Info
Testimonials (3)
Submitted by: Rev Mark E Gehrke on Oct 13, 2018
I am very proud to report that our very adorable 10 month old female Griffon, Remi "Zissa" Prized 1 today in NAVHDA's (North American Versatile Hunting Dog Association) Natural Ability test.
Submitted by: Rev Mark E Gehrke on Feb 10, 2018
After only 48 hours we have an awesome puppy! She is so smart and a cuddler. In less than 24 hours she learned to do her business outside, she learned to sit and come. Patty is a very knowledgeable breeder and loves every dog. Thank you for Zissa, in Hebrew it means 'sweetie.' And she lives up to her name.
Submitted by: Herbert Weigel on Jun 19, 2017
After four years of research the Griffon, Patti worked with me and kept me informed along the way on personalities of dogs and what I was looking for in all around hunting and family dog. I've been around labs all my life. My dad raise the labs. And between his friends and our own stock I've had everything from Chesapeake Bay to a yellow pointing the lab. This dog is all I could have ever wanted. His size is only 55 pounds, about half the size of my smallest dog. Could've got one more like 65 to 70 pounds. But purposely was looking for a smaller, leaner lap dog. Lol
He's the best Quail dog I've seen!
Submit your testimonial