Sojourner Kennels - Iowa English Pointer, German Shorthaired Pointer Breeders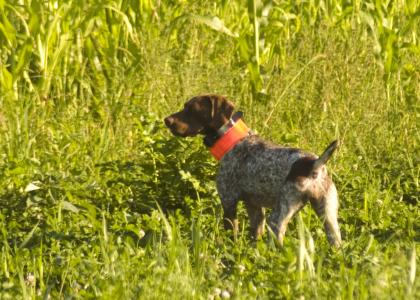 About Sojourner Kennels
We are starting up our kennel here
in Central Iowa; Heart of Pheasant country!
We only breed one litter per year so that we can socialize the puppies and get them started toward their hunting potential.
Dogs

handled daily and loved individually
Pedigree is from EXCELLENT bloodlines
Both Sire and Dam have a strong desire to please and are great family companions. We would like to see any of our pups go to homes that will use them for the hunting/trialing potential they will possess.
Sire of pups - Strong hunter, runner, happy personality with strong urge to please and obey the hunter.
Dame is field orientated and has great Cooperation in the field. Quiet personality/very loving and agile.
Any pups will be Great Hunters and family pets.
Hunting Dog Breeds Raised
English Pointer, German Shorthaired Pointer
Additional Services
Lodging, Meals, Stud Services, Boarding
Breeder Contact Info
Testimonials (0)