Lazy G Goldens - Iowa Golden Retriever Breeders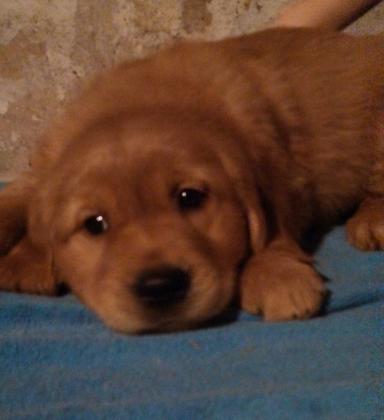 About Lazy G Goldens
We raise quality Golden Retrievers. These pups can make top notch hunters, obedience, and Field Trial Winners While still being an awesome family pet. We only have litters once every year or two. The pups all have a lot of handling by family and neighbors. Our Golden's have the nice blocky head and are a beautiful representation of the breed. Since 1997 our kids have been involved in 4-H dog obedience at local and state levels. I am on the county 4-H dog committee. Our golden's have always been obedience trained and have won several shows.
Hunting Dog Breeds Raised
Golden Retriever
Breeder Contact Info
Testimonials (4)
Submitted by: Kendra on Jan 21, 2016
We have a female Jasmine who is from Rebas 2013 litter. She is very well mannered,sweet,smart and just a joy to be around. She is very trainable and loves to please.
Submitted by: Pam Fuessel on Jan 20, 2016
We got our Sadie 3 years ago.... absolute wonderful dog! She is a true Golden in every aspect. I would highly recommend your next dog from Karen- you will not be disappointed.
Submitted by: Mary Jane Dimmer on Jan 20, 2016
I have a female Golden retriever from Karen Gibbs of Lazy G Goldens. I fell in love with my goldie, Sofie when she was only 4 weeks old, she was born in July 2014. I observed not only the great care and love that Sofie's mother retriever received but also the pride and care-from vet care to owner care and responsibility of raising pups that Karen demonstrates. Sofie has grown into a healthy, beautiful golden retriever who I continually receive compliments on her lovely coat to her intelligence. She is a gentle girl and we love having her as part of our family. I would recommend Lazy G Goldens!!!
Submitted by: S Thola on Jan 20, 2016
We bought our beautiful Golden from Lazy G..She is the smartest golden we have had (3rd one)..I feel they are very good breeders with a proven reputation! If I get another golden it will be from them !!
Submit your testimonial