K S Kennel - Iowa German Shorthaired Pointer Breeders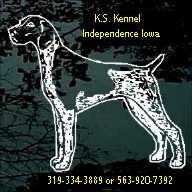 About K S Kennel
  We are a small Kennel in eastern Iowa. We offer Boarding, Training and occasionally pups and started dogs. See more at http://k.s.kennel.tripod.com
Hunting Dog Breeds Raised
German Shorthaired Pointer
Additional Services
Hunting, Training, Stud Services, Boarding
Breeder Contact Info
Kyle Williams
1012 9th st ne
Independence, Iowa 50644
Breeding quality gun dogs for over 18 years.
Send Email to K S Kennel
Testimonials (3)
Submitted by: Greg Peterson on Feb 03, 2007
Kyle,
I wanted to let you know how Paige has been doing. I joined NAVHDA about a month after we got her home just to gain some knowledge in training pointers. The entire club was overly impressed with her. I even had offers from the members to "take her off my hands" witch I quickly turned down. I have been taking her out everyday into diffrent places and have been amaized at how fast she is picking up on things. I dont make it to the NAVHDA training sessions much because I work weekends but when I do I have a croud that follows me into watch the field search because of how intense she is. She quaters better than any dog I have ever seen. She has learned how too use the wind and will adjust her pattern for it. Her points are absolutely beautiful and intense. I've been told she has natural backing instinct. They convinced me to enter her into the Natural Ability Test this last weekend. She did awesome in the Field Search. She had so much drive and had some awesome points. On Tracking I kind of blew it for her and did not make sure she was on it before I let her go. She ran off for awhile and then came back and without me having to restart her she took off on the track herself. She has done excellent on Tracks in training but I guess it was not her day but I think it was mainly my fault. She ended up getting a Prize II with 106 Points at five months old. She had 4's in everything except Tracking she got a 2 and cooperation she got a 3, this was my fault also during the tracking. The Judges were very impressed with her and everyone of them had said they would be willing to buy her from me if I should decide to get rid of her. I don't think it will be happening. I am so impressed with how well she is doing and can not wait to get her out into the field hunting this year. Thank you again for everything and could you please forward this on to Scott.
Submitted by: Bill & Shellie Gray on Feb 03, 2007
Hello Kyle,
Things are going well. I would definitely recommend your dogs to anyone who is looking for a German Shorthair. The little girl we got from you is great. She is extremely smart. She is going on 6 months old and is still the smallest German Shorthair we have ever seen. She is not overly hyper either like a lot of the bird dogs are. She is one of four dogs though, she being the only shorthair. She is doing pretty good on her obedient training as long as we are around the house and property. She is so birdy that outside of the yard (on walks) should we come across birds she totally forgets all her training, stops listening to commands and goes nuts. We definitely need to work on that with her or we will lose her on a hunt. She is still so very young. I am sure that is to be expected at this age. We are training her is shorts spurts so she does not get burnt out. She is also spoiled rotten. Takes turns sleeping with all the members of our family in our beds. She loves to take her naps on the couch next to us. Loves to go with us in the vehicles. She goes into her crate when we are not home and does not complain at all. Uses the doggy door when we are home with no problems. Anyway, I guess that puts you up to date for now. Should you have any advise on how to keep her focused on commands when out other than just more working with her, I am all ears.
Thanks Again, I will keep in touch,
Shellie and Family
Submitted by: Ken Staab on Feb 03, 2007
Thanks for training my 2 german shorthairs. They have been great hunting dogs and I would consider them a couple of true Brag Dogs. Thanks Ken
Submit your testimonial