Hickory Hollow Llewellin Setters - Iowa Llewellin Setter Breeders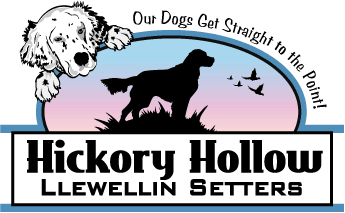 About Hickory Hollow Llewellin Setters
"Our Dogs Get Straight to the Point!" We specialize in breeding 100% pure Llewellin Setters. Our dogs have been DNA tested to prove bloodline purity, they are bred specifically to hunt and point birds, are loaded with natural instincts, and embody the ideal blend of strength, stamina, grace and style that is classic of the breed.
Our bloodlines include Blizzard (Advie, Gladstone, and Royacelle) and Dashing Bondhu, including bloodlines out of "Henry PrinceOf Pause", the famous Hank from the TV show Hunting with Hank which has aired on OLN (Versus).
We use the stud services of "Sillman's Hank Boy", son of Hank (1st generation). Hank Jr is the spitting image of his father and has a PennHIP score equivalency as excellent in the Llewellin Setter breed.
Our Llewellin, "Hickory's Hunting with Hope" is a grandpup out of Hank (2nd generation) and will be a great addition to our breeding program in the future.
Our Llewellin, "Hickory's Advie Bristol" was named in the TOP 5 of all time Llewellins that have ever completed the professional gun dog training sessions at Pea Ridge Llewellin Kennels in Trenton Tennessee.
Our Llewellin, "Duchess of Adena" was a hunting guide dog for the first few years of her life. During that time she developed uncanny instincts for hunting, tracking, and containing birds. She had over 200 birds shot over her by the time she was 3 years old.
A high percentage of our pups have been natural retrievers; a trait which can be rare in this breed.
You can be a part of your new puppy's life from the very start. From our regular litter BLOG updates to the weekly postings of new photos and our LIVE puppy cam on the internet, your puppy experience doesn't have to start at week seven, it can start from day one. Don't just buy a Llewellin Setter, enjoy the entire experience. Your next family and hunting companion is worth the wait from Hickory Hollow Llewellin Setters.
DNA Tested, FDSB Registered, CERF and OFA Certified.
Call us toll-free: 877-GUN-DOGS
Hunting Dog Breeds Raised
Llewellin Setter
Additional Services
Stud Services
Breeder Contact Info
Testimonials (1)
Submitted by: Timothy Sims on Jul 31, 2008
Top Two Reasons for getting a Hickory Hollow Llewellin Setter:
1. I can't imagine any breeder being better than Hickory Hollow. From initial contact through pickup day and follow-ups, the professionalism and communication skills are beyond expectations. You will know everything there is to know about your pup long before you pick him up. I suspect that most breeders care and love their pups while they are still in the birthing kennel but Laura and Bob no doubt love all their pups no matter how old or where they live.
2. This is the most important reason: The HHLS's are the best gun dogs in the world. They are the smartest. They have the best noses. They have the best eyes. They have the best noses. Let one live with you and they will give you more love than you can accept. Let one hunt with you and they'll show you what you're looking for then if you hit it, they go and find it again; all the while with the excitement of someone having more fun than should be legal and with unbelievable beauty.
Submit your testimonial