Bear Creek Kennel at Fernwood Farm - Iowa English Springer Spaniel, Labrador Retriever Breeders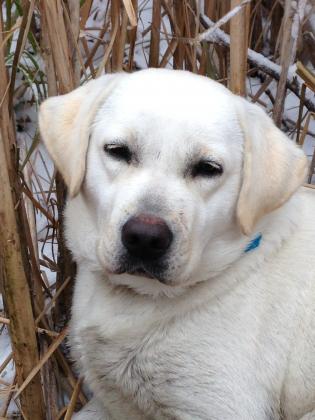 About Bear Creek Kennel at Fernwood Farm
Not to confuse us with any other kennel by this name, we are located on 25 acres of gentle hills and timber in North Central Iowa. Fernwood Farm and Bear Creek Kennel offer a small-town, family-farm atmosphere dedicated to raising top quality, happy, healthy, affordable puppies. For over 35 years, our family has been raising English Springer Spaniels and Labrador Retrievers.  Our pups are well socialized with other dogs and with the occasional family cat that happens to frequent the kennel.  The grandchildren get in on many hours of handling, naming and bonding with the pups.  The products of our selective breeding have offered tremendous satisfaction to their new owners as companions in the house and in the field; as hunt test and field trial competitors, as K-9 Officers and as therapy dogs in care centers...they simply do-it-all!  We breed for disposition, ability, conformation, strength, and loyalty. We raise a litter of Springer Spaniels every year!  Our beautiful female yellow Lab Daisy produces awesome, talented pups when bred to either Rocky or Gus and our Springers Nellie and Beau produce fantastic pups too. References are available upon request; we have a high number of repeat buyers.  Give us a call or check us out on our website (which is in need of updating...) Above all...love your dog, there is no better connection...
Hunting Dog Breeds Raised
English Springer Spaniel, Labrador Retriever
Breeder Contact Info
Testimonials (4)
Submitted by: Cory Stuber on May 03, 2019
We got an amazing pup from Bear Creek Kennel. He is smart, affectionate, loves kids and meeting other dogs, and is training remarkably well. He is a family pet and will not be used for hunting, so I cannot speak to that, but he has been a welcome addition to our family! Kelly and Rick were excellent with answering questions I had before the purchase and made it a great experience overall. Very happy we found them!
Submitted by: James on Dec 08, 2014
I purchased 'Buttons', a 9 month old started Springer Spaniel from the Lillie's back on February 8, 2015, and since the day I brought her home; Buttons has been an absolute joy. She is a fun loving dog that likes to play and hunt. I've had her out pheasant hunting about 10 times and she keeps getting better on each outing. I definitely recommend the Lillie's if you are looking for quality hunting dog and companion.
Submitted by: Renee Cook on Aug 06, 2014
We have purchased 2 puppies from The Lillie's. We have a 5 year old English Springer Spaniel and a 3 year old Lab. They are both the absolutely most intelligent, loving dogs we have ever owned. Our vet has even commented on the tremendous quality of the breed of both of our dogs. They are very spoiled, sleep in our bed every night, ride in the car to get coffee, but with that being said, they have the hunt in them. When they are outside their noses are to the ground, tracking!!
Logan is our Springer and Brock is our Lab. We love our babies and can't thank the Lillie's enough for choosing us to be their new parents!!! Tara & Renee
Submitted by: KRIS TAYLOR on Jan 31, 2014
WE BOUGHT OUR DOG FROM THEM THE DAY AFTER THANKSGIVING. FROM THE DAY WE BROUGHT HIM HOME HE HAS BEEN THE BEST.. HE WAS THE EASIEST DOG TO POTTY TRAIN!! NO MESSES AT ALL, VERY LOVING AND HE'S AWESOME...HE HAS BEEN THE BEST!!
Submit your testimonial