Corn Country Bretons - Iowa Epagneul Breton, French Brittany Spaniel Breeders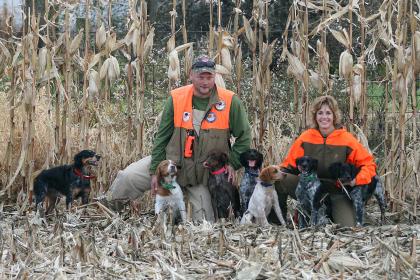 About Corn Country Bretons
We are a small family run kennel in Eastern Iowa. Our goal is to produce Epagneul Bretons that are excellent foot hunters and also confirm to the breed standard. Our dogs are UKC and AKC registered. We run our dogs in UKC, AKC, and NAVHDA events. We got our first EB Tori in 2004 and immediately fell in love with the breed. We use our dogs for hunting and companionship they have outside kennels in the day and sleep in our bedroom at night. Please contact us with any questions.



Hunting Dog Breeds Raised
Epagneul Breton, French Brittany Spaniel
Additional Services
Stud Services
Breeder Contact Info
Testimonials (2)
Submitted by: Brandon on Nov 02, 2011
When I decided to look for a good upland bird dog in 2009, i wanted a breed that would be just as well-adjusted and happy at home as in the field, and decided on a french britt. After weeks of research and checking out different breeders i contacted Randy at Corn Country, whose dog Bailey had just had a litter of pups sired by Hites Mississippi Bandit. We picked a cute little orange and white male and drove out 5hrs to get him as soon as he was weaned. "Corn Country's Easy Hero" was a quick learner from the start, picking up fetch, find-it, and come-here within a couple months. He has a STRONG bird/prey drive and instinct, extremely obedient, he would "stay" or "steady" for long periods by 6 months, and was holding a point by 1. Conformation is textbook, show quality, as well as his coloring and markings. He is the first bird dog I have ever trained, and man did I get lucky. This pup has learned everything i have tried to teach him despite my never having to use an E-collar. at home he is the happiest, most affectionate little buddy you could want. Very emotional, expressive, and has bonded tightly with the family and the other 2 dogs. (he loves to play hide-and-seek with the kids) I would say Hero is ABSOLUTELY the smartest, most eager to please, and best all-around dog i have ever had.
Thanks again Randy and Vicki, the lil' guy was an awesome addition to the family, and i couldn't ask for a better buddy in the fields.
I would recommend Corn Country to anyone looking for a great britt!
Submitted by: Bill Bomberry on Feb 07, 2010
I wanted a relatively close working, biddable pointer for ruffed grouse and woodcock hunting. I wanted a dog who was birdie in the field and a good family pet to share our home. We decided on a French Brittany after research based on reading books, perusing various web sites and also seeing the French Brittany Gun Dog Association national trials in Muscatine, IA in 2009.
We chose to work with Corn Country Bretons after seeing Randy and Vicki's dogs in their home as well as in the field. Abby is now 6 months old and is the dog we expected. She is biddable, birdie, very good in the house and is hard hitting in the field. She comes from excellent breeding and it shows. Randy and Vicki are more than willing to share their time and expertise before and after the sale. They have a true concern for their dogs and clients.
We highly recommend getting a dog from Corn Country Bretons.
Bill and Deb
Submit your testimonial