Brandiwine Sport Dogs - Iowa Vizsla, Weimaraner Breeders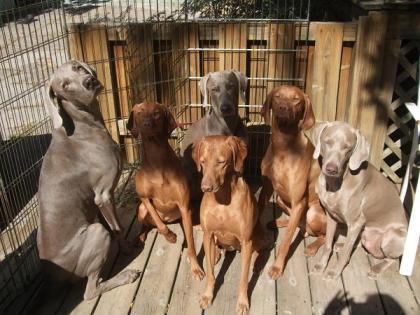 About Brandiwine Sport Dogs
Brandiwine Sport Dogs
Brandiwine Sport Dogs is not a kennel but is our home. All of our Weimaraners and Vizslas are "house" dogs and permanent members of our family. All of our dogs have experience in conformation, obedience, agility and hunting and we have been successfully competing in several venues, always owner-handled. We do not breed our dogs often, but when we do we carefully select the parents to produce puppies that are athletic, intelligent, personable and meet their respective breeds standards as established by their parent clubs. We are members in good standing of the Weimaraner Club of America and Vizsla Club of America and adhere to the code of ethics of both clubs. Please visit our website to meet our family!
Hunting Dog Breeds Raised
Vizsla, Weimaraner
Breeder Contact Info
Testimonials (2)
Submitted by: Olga Bishop on Nov 19, 2011
I met Bruce and Andi when I picked up our puppy Rogue. I flew in from Oregon to meet the Bryant family and their 5 adults dogs along with 13 puppies!!! Andi and Bruce are WONDERFUL people and responsible breeders. I was very impressed with the quality of care and attention they provided each and one of their puppies and adults dogs. I got a chance to attend the agility training with the Bryant family and I loved it. All of the dogs and puppies in the Bryant household were very well socialized and after meeting our puppy I knew that I made the right decision choosing them as breeders. I had a wonderful experience and our puppy Rogue is amazing. Thank you Bruce and Andi!!!
Submitted by: Julia Schulz (Graysong Weimaraners) on Aug 21, 2011
Bruce & Andi Bryant of Brandiwine Sport dogs are wonderful people who have truly dedicated their lives to the love & care of their dogs. They are enthusiastic and talented competitors in many venues including agility, conformation, obedience, & hunting. I have had the privilege of watching them learn & grow with their dogs & to call them my friends. I am truly thankful that two of my puppies "Chance" & "Sky" have such a wonderful family & will be the foundation stock for Brandiwine Sportdogs.
Submit your testimonial