Aspen Patch Setters - Iowa English Setter Breeders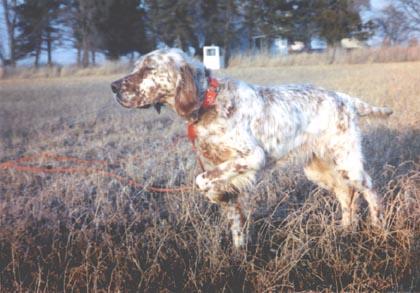 About Aspen Patch Setters
Ryman/Hemlock English Setter Pups/Stud Service Available!
Parents OFA Certified and on premises.
Quality bred for intelligence, temperament and natural-style. Proven on wild birds, grouse, woodcock and pheasant.
NE Iowa
563-633-2002
Hunting Dog Breeds Raised
English Setter
Breeder Contact Info
Testimonials (3)
Submitted by: Amanda Korth on Apr 12, 2016
I am very impressed with the intelligence and personality of my setter that I got from Aspen Patch Setters in the fall of 2014. She has been a joy as a companion as well as wonderful to watch her hunt. I couldn't be happier and everyone is jealous of my pretty girl.
Submitted by: Richard Cooper on Jul 11, 2014
The wonderful Joan Mizer referred me to Aspen Patch Setters. I ended up with the 'pick of the litter' back in the summer of 2005 on an unusual "all-male" litter of about a dozen pups. My orange belton is simply exceptional in every regard. I could not be happier.
Submitted by: Darin Knowler on Aug 19, 2008
Just a note, out of owning 4 setters in my past (3 English, and 1 Gordon Setter), the Ryman/Old Hemlock Setter we got from Aspen Patch, by far surpasses all. The dod is beautiful to look at, retreives naturally - he loves this by the way, points everything, and most of all has 2 sides to him. All business in the field, and just a good ole family and friend pet at home! Calm & smart. He is a natural hunter, stays close naturally!! What a joy! This Setter is exactly like the stories of great dogs we have all read about and dream of. Good work Aspen Patch Setters. His parents were Lady & Mac. Kindest regards, The Knowler Family
Submit your testimonial