Whiskeytown Sporting Dogs - Indiana German Shorthaired Pointer, Wirehaired Pointing Griffon Breeders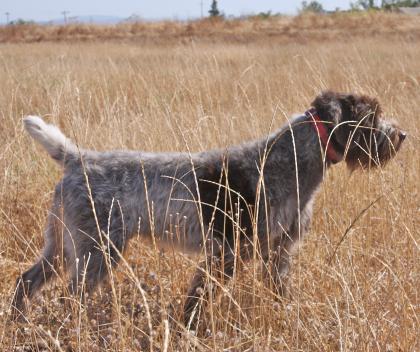 About Whiskeytown Sporting Dogs
We breed Wirehaired Pointing Griffons emphasizing sound temperament, structure and hunting ability. Our breeding stock must exhibit good temperament, field drive, be conformationally correct and proven themselves as a finished gun dog to be used in our program.  We only breed dogs that we have hunted over in all terrain. 
All of our dogs are top winning field and bench dogs, having earned both their AKC bench title and NAVHDA prized in NA or UT to be bred.  We participate in both NAVHDA and AKC hunt tests.  We have produced mutliple NAVHDA Natural Ability award winning litters and UT prized pups, AKC Junior/Senior/Master hunter dogs, and mutliple top winning Champions and Grand Champions.  We have also produced dogs competing in agility, search and rescue, Canine Good Citizens and therapy dogs. 
Our dogs are health tested prior to breeding, and our puppies are sold on contract with health guaranties.  We place pups in hunting, pet and show homes.
Please visit our website for more information on our dogs.
We are an AKC Breeder of Merit and NAVHDA registered kennel.
Hunting Dog Breeds Raised
German Shorthaired Pointer, Wirehaired Pointing Griffon
Breeder Contact Info
Testimonials (3)
Submitted by: Meri Jane Stern on Nov 25, 2015
Can not say enough good things about this breeder of Wirehaired Pointing Griffons. From the first phone call to find out about the dogs to the day you pick up your pup and beyond, this breeder stays very involved and raises quality pups. We have two Whiskeytown pups, both are two years old now and are the best dogs. I would not hesitate to own another Whiskeytown Sporting Dogs WPG at any time in the future. Total quality all the way around.
Submitted by: Louise Scanland on May 10, 2013
I picked up my male WPG ,Grey Goose, from the Whiskeytown Kennels and could not be happier! The pups had been chipped; AKC registered; their shots were current; and they were all robust and healthy! Kennels were clean and it was very clear that each and every pup had been loved and played with. Kristi takes great care to match her bitches with males that are healthy and who possess qualities that will benefit the breed. Both parents have AKC GCH titles and also have NAVHDA and AKC SR Hunter or better titles The results are pups who are conformationally excellent with great hunting instincts. The Vodka Litter, Goose's litter, of 12 pups are already winning AKC Conformation shows. In addition, 8 of the pups have scored Prize 11 and Prize 1's in NAVDHA tests before the age of 10 months and a 9th pup has an AKC JR Hunter title! Quality kennel, quality owners, quality puppies! I heartily recommend that if you are looking for a WPG that you contact Kristi and speak to her...
Louise Scanland
Submitted by: Susan Meadows on May 10, 2013
When you purchase a puppy from Whiskeytown you can be assured of getting a top-notch puppy!! Not only will they have great hunting ability, their temperament will be A+. At 10 months of age, my puppy scored 110 points in her NAVHDA Natural Ability Test! In addition, they are always willing to answer any questions you may have regarding the breed. I definitely plan on purchasing another puppy from them in the future!
Submit your testimonial