Trinity Oak Labs - Indiana Labrador Retriever Breeders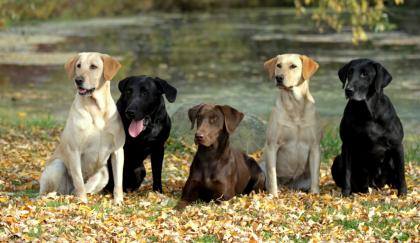 About Trinity Oak Labs
Trinity Oak Labs is a kennel located in northern Indiana. TOL is the home of HRCH UH Wolf Creek's Ebonstar Coach MH, HRCH UH Wolf Creek's Candlewood Victory MH, HRCH Abby's Storm in the Night, HRCH Trinity Oak's Way-da-go Rylee, HRCH Grady's Skye Rocket, HR Trinity Oak's Code Brown, along with many other titled and trained retrievers. Our dogs carry some of the finest bloodlines available anywhere, from the best of Hunt Tests to the top of the Field Trial world.

The location of TOL is about 20 minutes from the MI line, and 45 minutes from Fort Wayne, Indiana. Our goal for our kennel is to produce Black, Yellow, and Chocolate Labradors that are as good in the home as they are working in the duck blind, and Goose or upland fields. We prove the natural and trained ability of our dogs by running in them in retriever tests, with a very high pass rate right around 90%

Our dogs are stylish, have great temperaments, good with adults and children, and are passing their outstanding bird drive and temperaments to their pups. All of our breeding age dogs are OFA certified-including both Hips and Elbows, their eyes CERF'd, and EIC tested.

Most of our dogs have multiple titles in UKC, i.e SHR, HR, HRCH, UH, or if they are still a young dog, are working towards those titles in the future. We also run some AKC tests and field trials upon occasion. We are members of Backwater Retriever Club and are very active members in good standing.

Please visit our website for more information on our upcoming litters, our dogs, and our kennel.
Submitted by: Joseph Thomas on Mar 25, 2010
In April of 2007 I purchased a female pup (Mossi) from Trinity Oak Labs in Indiana. The selection of this kennel was not an easy one for me.
My girlfriend and I had looked at seven other kennel pairings for 2007 in the states of Missouri, Illinois, and Indiana. The pairing of HR Jake's Golden Emmy (Trinity Oaks) to GRHRCH Casey's Max a Million (Bruce Shoup) seemed to good to pass up for the extremely reasonable price Trinity Oaks was asking for the pups in the litter.
Mossi's demeanor has turned out to be a combination of the very description that Trinity Oaks provided of my pups parents, Emmy and Max. She is an extremely happy and loving dog, yet can pin the ears back and go to work with a passion when it is called for.
In less than 3 years time, Mossi has earned her SHR,HR,HRCH,UH,and SH titles in the UKC/AKC hunt test disciplines. She has 300 HRC points and the 2010 season is just beginning. Did I mention she is a HOUSE dog too.
My testimony to Trinity Oaks is this: I have NEVER owned nor trained a hunting dog in my life. My training was done with time, love, and patience in leui of a heeling stick and e-collar. Its the quality of dog that matters.
Mel and Abby Eash have been nothing but wonderful people to communicate with since Mossi left their kennel. Good people produce good things, for the Eash family, and Trinity Oak Labs, those good things are quality companions,hunting, or hunt tests dogs.
Joe Thomas
Granite City, IL.
618-581-9826
UH HRCH Canteen's Mossi Brite Eyed Boo SH
Submitted by: Chris on Feb 27, 2009
I just wanted to give you some information on Molly. She is doing awesome! I can't wait to sit in the duck blind with her this fall. She is obedience trained and has gone through force fetching. She has lots of drive and loves retrieving. I love watching her work! We are starting to work on some more advanced drills and she handling it well. She is an awesome companion, smart, and goes with me everywhere. I couldn't ask for a better dog!
Submitted by: David S on Sep 25, 2008
Winnie received her first two started passes at East Arkansas HRC hunt test! First let me tell you that this dog is a fire breather and she absolutely smashed all four test then looked at me like, "is that all you have got?!" She is ready to run seasoned, but unfortunately I am not, so were going to finish getting her SHR title and then move on to seasoned so that I can catch up to her. Currently she is progressing in her training very well, her trainer, Scott Greer, said that she is the first dog that he has ever seen get through Swim-By in one week and is currently running 100 yard water blinds with multiple water entry's like there is nothing to it. We get to pick her up on October 1st, however, we plan on running her at the Old Hatchie HRC Test in just a few weeks to finish up her title. Once again I want to thank you and your family for the excellent breeding that is done at Trinity Oak Labs, you guys are setting the standard in Indiana. Also all of this and she won't turn one year old untill 8/28/2008!
Thanks so much TOL!
Submitted by: Nick on Dec 24, 2007
Maggie is 7 months old and got her first Drake last weekend and Canadian Goose yesterday! She loves hunting! Her sense for birds is awesome. She sometimes hears them coming before I do. Now every morning when I'm getting ready for work she sits by my truck and barks, wanting to go hunting. She's an awesome dog. Hope all is well in Topeka.
Submitted by: Ty Forester on Apr 11, 2007
I purchased Lucy in Feb. of 2004, she is a female black Lab about 65 lbs (a great size for the duck boat) and the friendliest good tempered dog I've ever seen. I am by no means a dog trainer but just by watching a training video (Water Dog) and being patient I was able to train Lucy into a very good waterfowl dog, and now we are working on pheasant (we made our first trip to Iowa this year). I know she is trainable because she listens to my brother as well as me. She is a house dog and is great with my 8 year old daughter. The Eash family is a joy to deal with and very knowledgeable about Labs. I would definitely use Trinity Oak Labs in the future.
Submit your testimonial