Shotgun Farm Bird Dog Training - Indiana German Shorthaired Pointer Breeders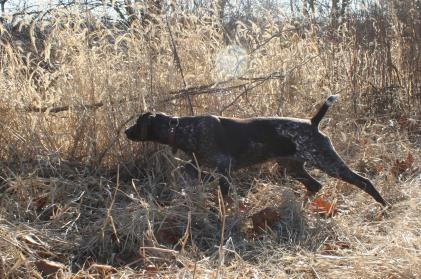 About Shotgun Farm Bird Dog Training
Professional bird dog training for all pointing and flushing breeds, hands on training with plenty of birds, lots of attention and affection with positive re-enforcement.  High quality German Shorthaired Puppies available.  
.  
Hunting Dog Breeds Raised
German Shorthaired Pointer
Additional Services
Training, Stud Services
Breeder Contact Info
Testimonials (3)
Submitted by: Scott Callahan on Sep 07, 2015
Dick and Kathy are great folks committed to giving our 2 year old Vizsla Rudy the best training with positive reinforcement. Rudy had been trained before by another trainer and had a bad experience. Dick took Rudy back to the basics and he is now enjoying the hunting experience. With just 20 days of training Rudy is having a blast hunting and hunting harder than ever. Dick simplified the process for me as a hunter and Rudy is thriving. Our Vizsla is always happy at Shotgun Farm and has a great attitude after his stay. Dick and Kathy give much attention to all the dogs and make them all number one priority- even over their owners! We look forward to seeing Rudy reach his potential and having our next dog trained the right way from Shotgun Farms. Thank you Dick and Kathy!!
Submitted by: Ryan York on Jun 09, 2010
Dick and Kathy had my 18 month old Weimaraner back in Febuary. My dog is from from an unknown background and from what I can tell with research had no hunting background at all. Needless to say she wasnt the fastest of learners. Dick insisted to keep her month after the contracted time (at no cost) and worked with her everyday to get her started. She is still rough around the edges but starting to understand the game. Dick urges me to be up at his place as much as possible to work her with him. Although my dog isnt a screamer I couldnt ask for anything more with a trainer. Not only is he committed to training he is always offering telephone support. Its amazing to see the people in and out of his house on a daily basis leaning on his support and knowledge. Check out the website brags they speak for themselves. I still bug Dick atleast once a week and he always answers and lets me pick his brain.
Great Operation
Better People
Submitted by: ryan hochstetler on Feb 01, 2009
i took my first gsp to Dick and Kathy to have her started on birds. they did a wonderful job with her! i really enjoyed the fact that they have an open door policy. Dick wants you to be there as often as you can be to carry the training over to the handler and not just the trainer. also, to this day, if you have any questions about bird dog training, the Dunnuck's are more than happy to answer any questions. i have learned a lot about bird dogs and dog training. it has been a great experience so far. i would recommend anyone to Shotgun Farm for bird dog training!!!
Submit your testimonial