Salt Creek Shorthairs and Cockers - Indiana English Cocker Spaniel, German Shorthaired Pointer Breeders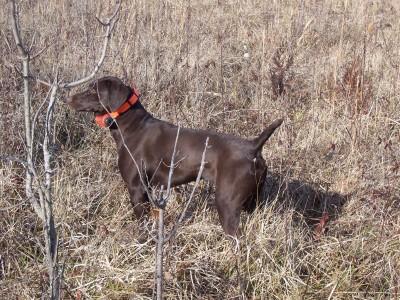 About Salt Creek Shorthairs and Cockers
Salt Creek Shorthairs breeders of quality foot hunting and trialing German Shorthaired Pointers. Our pups are easily trained by beginners or experienced trainers. They possess natural pointing, backing and retrieving abilities. They  make excellent hunting dogs and family companions. Our bloodlines blend some of  the best imported German and American lines available. Our litters usually have all color combinations possible: liver roans, solid liver, liver and white,black roans, black and white, and solid black. Call for available pups and or started dogs or email for pictures and pedigrees. We have recently added field bred English Cockers (2010). Pedigrees can be seen on saltcreekshorthairsandcockers.com under the English Cocker tab and German Shorthairs tab. We have a liver white and roan litter born June 10th. There are 4 males and 3 females. Pups will be ready July 29, 2016. Taking deposits now for order of selection.
Hunting Dog Breeds Raised
English Cocker Spaniel, German Shorthaired Pointer
Additional Services
Stud Services
Breeder Contact Info
Testimonials (3)
Submitted by: Betty Anderson on Aug 25, 2020
George simmerman has been wonderful. He has kept me informed of everything and contacted as soon as the little one was born. Only 1 little female and I am so blessed to have her. I can't wait to be able to bring her home. I hope to be able to purchase another little one as soon as possible! Mother and father are very great looking parents with a great stance about them. Wonderful family! I would definitely recommend this breeder! Prayers go out for all the mom's,dad's and babies!
Submitted by: robert moerman on Jun 27, 2007
We purchased a female black roan puppy from George this spring. She is now 4 mos old. She is pointing staunchly, honoring other points, and retrieves to hand. She is gorgeous! She is bold, cooperative, listens, and is a fast learner. She is going to be a great bird dog! Thanks George! Rob Moerman Abbelane kennels
Submitted by: Jim Owens on Feb 12, 2007
I've known Mr. Simmerman for a number of years and hunted with several of his dogs. Most recently a friend of mine bought one of his dogs and I purchased one that was sired from Salt Creek Kennels as well. The dogs I've hunted were well-trained and have a lot of natural instinct--important to me because I have neither the time nor the knowledge to adequately train them on my own. I've found Mr. Simmerman to be a straight-forward, honest breeder and would recommend him.
Submit your testimonial