Orion Labradors - Indiana Labrador Retriever Breeders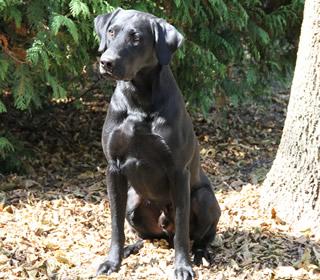 About Orion Labradors
Orion Labrador Retrievers is operated by Jeff Swackhamer, a consulting forester who lives, works, and hunts in Indiana. My mission is to produce Labrador retrievers that are mentally and physically sound, as well as being endowed with the proper traits and abilities required to make great hunting retrievers and companions. I strive to breed Labs that reflect the historical image of the breed as described in the written standard and illustrated by the photographic record of Labs from the past.
Orion began in 1986 when I purchased a male black Lab puppy to be my companion and to accompany me as I worked in the woods of Indiana. Blaze became a wonderful companion and a valued asset in the woods. I felt I owed him the opportunity to fulfill his destiny to be a hunting dog and we became an avid hunting team. Blaze taught me a great deal about dog training and hunting with Labs. I became enthralled with the Labrador retriever and studied the breed in earnest. In 1991 I purchased a yellow female as a work and hunting companion, and as a future mate for Blaze. She whelped her first litter in May of 1994. This began my tradition of producing top quality field and companion Labrador retrievers. I am currently breeding my fourth generation of working Labrador retrievers.
I breed no more than a litter a year, often only a litter every other year, so that I am able to keep a pup from each litter to evaluate. I keep my kennel population at six Labs or fewer so that I am able to include all of my dogs in regular trips with me to the woods and fields. This policy enables me to thoroughly assess each dog's mental and physical abilities to determine whether it lives up to my standard as an Orion breeding candidate.
What began as the desire for a good companion has evolved into a quest to produce the highest quality Labrador retrievers available. After more than a quarter of a century of living with Labs, working with Labs, and learning about Labs, I've established some firm opinions about what distinguishes a good Lab from a great Lab. Producing great Labs has become my passion. Please spend some time on my website to learn more about my breeding program and my dogs. Feel free to contact me if you have any questions concerning my thoughts on Labs or if you would like to inquire about the availability of a puppy or a started dog. I look forward to helping you find your ideal Lab!
Jeff Swackhamer
Hunting Dog Breeds Raised
Labrador Retriever
Breeder Contact Info
Testimonials (2)
Submitted by: Chad Hodgen on Sep 16, 2018
My wife and I purchased a puppy from Jeff in May 2006 after months of building excitement and anticipation. This gave Jeff the opportunity to start working on us to become more informed and helping us better understand the importance of understanding our new puppy before she ever came home.
The traits in his dogs along with the guidance he provided proved to be a winning combination. Things couldn't have gone any better over the last 12 1/2 years.
She's still with us, and she's been absolutely the best dog we've ever spent any time around! Jeff's passion for these dogs really shines through!
Submitted by: Jennifer and Todd Hester on Apr 14, 2012
We first met Jeff just over a month ago when he was showing us 4 of his 5 Labs! We were undecided on purchasing a started dog or a puppy. Jeff spent hours with us showing us his training technic on all his Labs, he is even tempered and truly loves the breed and his dogs! We will be purchasing a dog from Jeff and recommend him as a breed to everyone! His enthusiasm for the breed is infectious and he has become a friend of ours! Jeff's Labs are smart, obedient, loyal, gorgeous, and healthy!
Submit your testimonial