Moonlight Bay Chesapeakes - Indiana Chesapeake Bay Retriever Breeders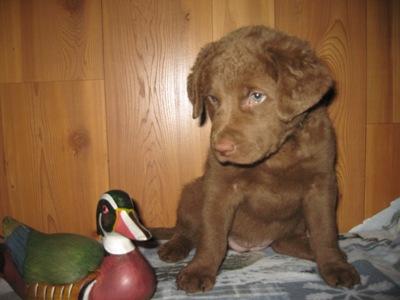 About Moonlight Bay Chesapeakes
���Planned breeding Falll 2020
Puppies from� hunting, show� lines. Will be very birdy with a natural desire to hunt. Excellent temperaments, gorgeous coats and correct conformation. Litters will produce rugged hunting partners and wonderful family companions.
All of our dogs are tested & certified clear hips/elbows/eyes/DM/EIC so that we produce the healthiest companion possible.
Our puppies are raised indoors from birth to 8wks with all of the noises from�household including other dogs.�� Depending on weather conditions, all pups go outside to play daily after 5wks of age and also are introduced to water and birds. They are extensively socialized in a variety of situations to be sure they are well rounded and steady minded. Thank you for taking the time to research our breeding program. We are extremely proud of the dogs and puppies we produce.�
��������������������
Visit our website at https://moonlightbaychesapeakes.com/
Hunting Dog Breeds Raised
Chesapeake Bay Retriever
Breeder Contact Info
Testimonials (2)
Submitted by: Linda Hardoon on May 15, 2015
I bought Maggie from Moonlight Bay Chesapeake 3yrs ago and she is the most wonderful chessie. Maggie is very intelligent and knows what you want by just looking at you. She is a quick learner and was easy to train. She is very agile and has climbed on a huge stack of hay bales I keep in my barn in a second!! She is always the first to jump in the water and loves to retrieve. Maggie is my first female chessie(I have 2 male chessies also) and I honestly don't know how I would live without her.
Submitted by: Heather McCullar on May 14, 2015
I got my baby girl from Gail, her name is Ellie. She is perfect. Dealing with Gail was easy also. I send her pictures on Facebook. I would definitely buy from her again. My baby girl is perfect in every way. I lost my chessie to a house fire on 12/12/14 and Ellie is a great replacement.
Submit your testimonial