Crossroads Kennel - Indiana English Pointer Breeders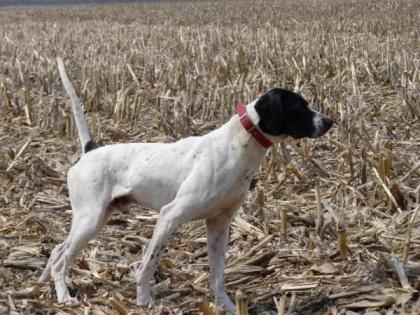 About Crossroads Kennel
Crossroads Kennels has been breeding / training / trialing , for 20 years.
Started with labs then went to setters now pointers. We have dogs out there winning in all venues. From the ranches of Texas, to the grouse woods of Michagan. Nstra dogs to Horseback dogs. Our goal is to produce the best possible bird dog, from using the best bloodlines, from proven parents. Kennel cosist of the best of Elhew Breeding, from setters closely bred from Tekoa Mountain Sunrise. We have a couple of litters a year and from time to time started dogs to finished dogs. We have owned / bred/ trialed the Reg 5 derbies of the year the last 3 years, setters and pointers.  That are winning  shooting dog trials now. We have 1 llewellin setter , who is a dream to hunt behind. We dont have brood bitches , they do double duty, If there not good enough to hunt behind, then there not gonna reproduce. Give us a call  to see if we can help. 765-363-1035
 
Hunting Dog Breeds Raised
English Pointer
Additional Services
Stud Services
Breeder Contact Info
Testimonials (2)
Submitted by: Connor on Feb 27, 2014
I picked up an English Setter puppy from Tony back in 2012 and she has been a great dog. She is a great family dog, and her drive to please is out of this world. Her hunting drive is better than any bird dog I have ever hunted with. She will run all day and never seems to get tired. Excellent dog and I will be making the drive from Cincinnati to get another pup real soon!
Submitted by: Rachel on Dec 01, 2013
We purchased an English Setter pup from this breeder this summer! Have been extremely happy with how he is turning out as a hunting dog and a family dog. Tony was a pleasure to work with. He was a very down to earth guy and was always honest when answering our questions. Will definitely go back if we choose to get another setter in the future!
Submit your testimonial