Brush Bustin Brittanys Kennel - Indiana American Brittany Breeders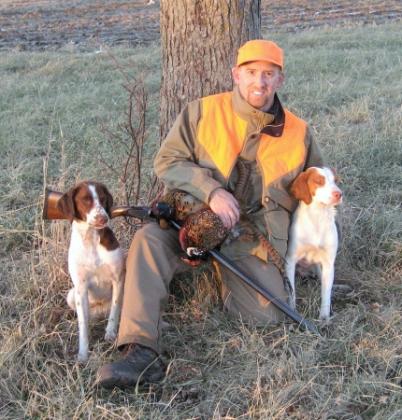 About Brush Bustin Brittanys Kennel
Welcome to Brush Bustin' Brittanys Kennel
We believe that Brittanys...
are more than just hunting dogs
are devoted family members and loyal companions
need attention, love and exercise to be happy
We are...
a family owned, home-based kennel
committed to responsible breeding, ownership and perpetuation of breed standards
We are not...
a puppy mill. The kennel produces one litter of pups per dam per year, no more.
willing to sell our pups to homes we feel will not be suited to the Brittany temperament

Hunting Dog Breeds Raised
American Brittany
Additional Services
Training, Stud Services, Boarding
Breeder Contact Info
Testimonials (2)
Submitted by: Lori Mangrum on Dec 24, 2008
We just purchased a puppy from this breeder a week ago for Christmas. This breeder is the best! He knows his stuff, the sire and dam are onsight (and have great personalities), the pups have already been socailized a great deal, and my puppy is almost potty trained at 9 weeks! (They are already used to going outside in the grass with mom and dad so they know what to do!) Our puppy has not had even one accident in her crate since she's been home.I would highy recommend this breeder (he only breeds once a year) if you want a puppy. His knowledge, care, and in-home kennel make a world of difference.
Submitted by: Mark Talaski on Feb 11, 2008
I did not purchase a dog from Tim as the timing of his puppies didn't work well with my schedule however he has helped me a ton. He has shared a lot of of his insight, sent me some training information and spent time talking to me about dog topics.
If I was to get another dog some day Brush Bustin Brittanys Kennel would be way at the top of my list! I can't imagine there being a more involved and caring breeder.
Submit your testimonial