vom Hardwire - Illinois Deutsch Drahthaar Breeders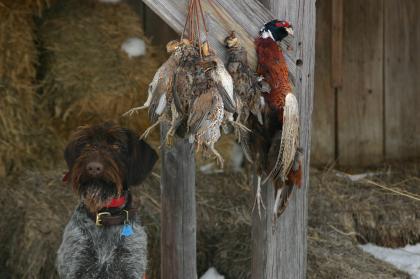 About vom Hardwire
Hardwire's goal, is to produce quality hunting dogs, that you can live with. The Deutsch Drahthaar is the ultimate, in versatility. Strong pointing instinct, and temperament, are very important qualities, at Hardwire. Our desire is to breed a medium sized dog, with an athletic build. One, that can go all day. All pups are whelped in our home, and well socialized, with family and children. Pups will have tails docked, dew claws removed, deworming, shots, and tatooing, before release date.
Hunting Dog Breeds Raised
Deutsch Drahthaar
Breeder Contact Info
Testimonials (2)
Submitted by: Dragan Labovic on Apr 11, 2011
I can not say enough great things about the pup I purchased from the vom Hardwire kennel. Right now our pup, Aiko, is about 26 months; he is from the "A" liter of vom Hardwire kennel. Aiko has unbelievable stamina when hunting. This dog loves to hunt and has amazing drive. As a matter of fact, other hunters are constantly blown away by his drive to hunt. Aiko ranges very well in the field, he has a great nose and is an obedient dog. This pup is extremely intelligent and was a quick learner. Early on, his natural ability in the field was obvious and then confirmed as he scored a 73 on his first test. Aiko is not just a hunting buddy for my son and me - he is a full member of the family, living in our home, which includes three children. When Aiko is not hunting, he is camping and canoeing with us, even going to the kids' soccer games; needless to say, he has a great temperament. As a hunter, I constantly get comments from other hunters on his coat and confirmation; but my wife and kids are also being stopped and asked what type of dog he is and how beautiful he looks. Aiko has made my hunting experience far more enjoyable than it's ever been. We looked around before we purchased our pup from the vom Hardwire kennel. Buying from vom Hardwire was the best decision we made. They were extremely accommodating and more than willing to answer all of our calls and questions - even after we bought the pup. The vom Hardwire breeder is passionate about Deutsch Drahthaars and it shows in the way he cares for his dogs and the concern given for a good match for all pups. I would absolutely purchase another pup from vom Hardwire! Thank you for a fabulous hunting dog and family companion. Dragan and Family
Submitted by: Zack Pesic on Jun 21, 2010
I am more than completely satisfied with my Deutsch Drahthaar pup from vom Hardwire kennel. This pup is constantly amazing me with its natural ability. The pup is showing a high level of intelligence and is very cooperative. I have a male pup from vom Hardwires "A" litter who is about 15 months old. The pup was exhibiting very strong pointing instincts early on and is a natural dead game finder. This pup has high energy but is so cooperative that it makes it a joy to hunt and train him. He is a very quick dog and has a motor when searching the fields. Vom Hardwire kennels has bent over backwards helping me and the other puppy owners with information and training tips. Thank you vom Hardwire for your constant help and wonderful edition to my hunting arsenal. Zack and Audi vom Hardwire.
Submit your testimonial