Tarmigan English Pointers - Illinois English Pointer Breeders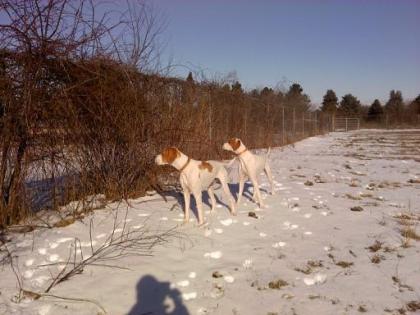 About Tarmigan English Pointers
Life is too short to hunt with an ugly dog! We have been training, breeding and showing multi venue winning dogs since 1983. We only have English Pointers so we are very focused on producing top quality, versatile personal hunting, home companion, performance and show quality dogs. Our dogs ( we have only 4) all live in our house, not a kennel so they get lots of personal attention and training.
Litter announcement: Prim x Reed
We have bred this litter from proven dual purpose (hunting and show ring) lines. Litter arrived October 6, 2018 of multi purpose puppies that are both beautiful and will hunt. You shouldn't have to chose between hunting ability and beautiful when you can have both. We provide support to our puppy buyers for training in hunting, obedience, rally, lure coursing, barn hunt and the show ring.
Contact us for a pedigree, photos of the parents, and pricing for this exceptional litter 815-997-0225TarmiganPointers@yahoo.com
(smartphone) and leave message. We return all calls within 24 hours, or email us at
Hunting Dog Breeds Raised
English Pointer
Additional Services
Stud Services
Breeder Contact Info
Puppies for sale
Testimonials (0)