Three Stripe Kennels - Illinois English Pointer Breeders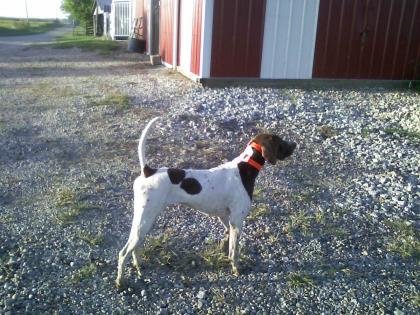 About Three Stripe Kennels
I have been hunting behind pointers for over 25 years. I will always remember my experiences with my grandfather, quail hunting with my Red Rider while he was grinning from ear to ear. That is when my passion for English Pointers and upland bird hunting began.
My lines consist of Elhew, Honky Tonk, Shadow, with a little mix of Island Grove Brute Influence. I have just a few dogs, but try to keep what I feel are the best. I am not a full time trainer or kennel, so my dogs are bred for style and natural ability. I have 1 or 2 litters a year. I pride myself on raising natural and intelligent foot hunting dogs that anyone would be glad to hunt behind
Male shown is a 2 year old and Elhew bred His sire "Buck" is by (Yellow Rose Hank X Elhew Miss Frog) Dam "Cassie" (Elhew Mr. Mcgwire X Strikes Elhew Lady). Max runs at a medium range, with a high cracking tail at all times and is a natural retiever. I sold a female bred to him last spring, pups look great.
Hunting Dog Breeds Raised
English Pointer
Breeder Contact Info
Testimonials (0)