Labs of Luv - Illinois Labrador Retriever Breeders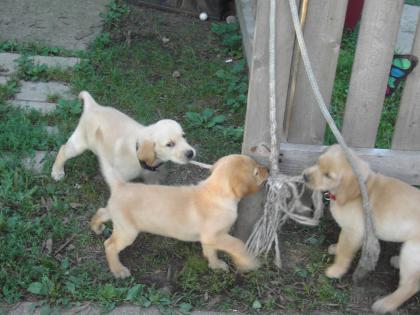 About Labs of Luv
I am a private breeder of AKC Champion potential, OFA, EIC certified Labs, CERF cleared annually.
I breed, raise, train and handle all of my own bitches and studs.
I allow bitches to naturally wean and socialize with their pups in addition to socializing with the other dogs, friends dogs, people, toddlers, etc. after 6 weeks old. I allow pups to start going to their new homes at just about 8 weeks.
I breed for temperament, disposition, secured foundational health, AKC Lab Standard and more.
I breed Fox Red, Chocolate, Yellow and Black.
One of my bitches earned CGC, TDI
My Fox Red stud earned several first and second place legs at an All Breed (Conformation).

Check out my website for pictures, more about 'us' as a family and contract/guarantee information, links,etc. @www.redlabsofluv.com
email : redlabs4u2@yahoo.com
Hunting Dog Breeds Raised
Labrador Retriever
Additional Services
Training
Breeder Contact Info
Testimonials (2)
Submitted by: Dawn Garrock on Dec 11, 2008
Our family purchased a female black lab puppy from Selena from a litter born in September. We have had our puppy, Riley, home for one month now and she is already becoming a great dog. As represented, she is beautiful, healthy, smart, obedient and loving. We would highly recommend Selena and her dogs to anyone who is serious about being a dog owner and is looking for a sound quality dog. Not only is being a breeder her business but it is her passion and it shows in every gesture she makes and every word that she speaks.
Submitted by: Dave Webb on Nov 21, 2008
I own one of Selena's Chocolate Labs named Charly. He came to me at 2 yrs old after a "false start" with another family. I have owned sporting dogs for 25 yrs, Goldens and Labs. I presently have another Chocolate lab , Bosco who is an intact male. Our first challenge was to socialize the two. After a few face offs they settled down to become best friends. Charly is very active and fit. He is affectionate and very intelligent. He has taken to his new family and even though he makes a few mistakes (socks for chew toys, etc he is a great companion and a welcome addition to the family. Although I no longer hunt, Charly's instincts are very keen in this area. Selena is very particular who her pups go to and that the match is a fit for everyone. As in Charly's case it took two bites at the apple but he is now happy and loved. I would highly recommend Selena as a breeder to select. She is hands on with the dogs and passionate in her work
Submit your testimonial