Ken and Sherry's GSP - Illinois German Shorthaired Pointer Breeders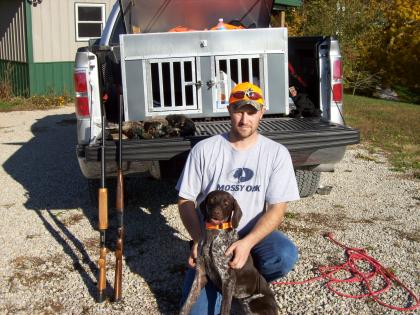 About Ken and Sherry's GSP
Please help!
One of our 2 year old puppies from the Georgetown Illinois area is missing. She is a liver and white ticked female with a solid liver head. The family is heart broken. Her picture is above after her first hunt. If you have any info on her where abouts please call us.
Hunting Dog Breeds Raised
German Shorthaired Pointer
Breeder Contact Info
Testimonials (3)
Submitted by: Jim Schug on Mar 06, 2011
We just brought home our handsome German Shorthair Pointer. Abby She is 10 weeks old and makes such a great addition to our family we couldn't be more pleased. Ken & Sherry are such wonderful people, and very much in tune to their animals. We know if we have any questions what so ever they are a phone call away. Thank you for making such a difference. I would recommend anyone looking for a German shorthair these are the people you want to buy from.
Thanks Again Jim
Submitted by: Shelbie Bontemps on Feb 26, 2011
Ken and Sherry's GSP puppies are beautiful and come from a great blood line. We brought our puppy home on February 7th. She is already raising her paw to point. I can tell already that she will be a strong, persistent, and determined hunting dog.
Submitted by: Ken and Kim Koran on Feb 26, 2011
We chose a female all-liver shorthair from this breeder. She is AKC and we have her bloodline going back 3 generations. She comes from championship hunters and she, herself, is an awesome hunter. She has been hunting since she was 9 months old, without any professional training. It is all instinct with her and I couldn't be happier. She is the best shorthair we have ever owned and she is also a very loving, family dog - very smart too. I wouldn't purchase a dog from any other breeder after owning this pup.
Submit your testimonial