Sur le Delavan Kennel - Illinois Epagneul Breton, French Brittany Spaniel Breeders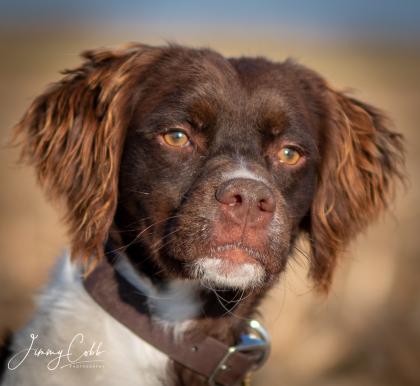 About Sur le Delavan Kennel
Welcome to Sur le Delavan Kennel. We are natives of Delavan, IL, hence our affix for our kennel being "Sur le Delavan". We have lived on the McCrea Farm since 2000, we started our family here, and rebuilt our home and kennels in 2017 on the same grounds. Being dog lovers in general and pointing dogs in particular we decided in 2006 to firmly and definitely breed "French Brittanys" with the single goal of producing "Champion French Brittanys: At Home. In the Field.". There a few things you should know about us. We are not professional breeders. We are not backyard breeders either. We do not raise French Brittanys for a living and we are not in it for the money. We are serious and dedicated breeders and trainers who love Bretons and who own, import, hunt, field trial, and show our favorite pointing breed. ​ Although hunting is still the main purpose we raise EBs, we are committed to the ideals that have made the Breton the best family hunting companion available. And if you are going to do something, you should do it right! That's why we strive to breed dual quality dogs. For us, the fundamental belief is for the Breton to be a "Champion: At Home. In the Field." they must must have passion, an inordinate desire for hunting, good character, a strong mentality, and all this coupled with natural aptitudes typical of the breed. ​ Our breeding dogs have been carefully chosen from only the most proven kennels and lines in the world. Our breeding stock comes from France, Spain, Italy, Ireland, Turkey, and the United States. Our dogs are truly a living history of Epagneul Breton. We have developed our own line of Bretons over the past 15 years. You will see many of our Sur le Delavan line of dogs in other breeders' kennels. ​ We talk very little about our dogs because we prefer to leave that task to judges in the different disciplines we compete in, to confirmators, and to the kennel clubs themselves so that they can issue their expert opinion of our dogs both in the field and ring. Because of this, our clients have the certainty of objective and highly qualified information on each puppy, started dog, imported dog, and breeding couple. The effort that we put into the selection of our litters is aimed at achieving excellence and for our Bretons to guarantee their owners the enjoyment and satisfaction of a good day of hunting or competition, without surprises or disappointments. If we succeed at providing "Champion French Brittanys: At Home. In the Field." our work and efforts will have been worth it. ​ We want to extend a warm welcome to visit the farm and our kennel in person. If you did not find the information you were seeking, please reach out to us with your questions or concerns. ​ Sur le Delavan Kennel Champion French Brittanys: At home. In the Field. ​ Clint, Suzanne, Will, and Annabelle LaFary
Hunting Dog Breeds Raised
Epagneul Breton, French Brittany Spaniel
Additional Services
Hunting, Training, Stud Services
Breeder Contact Info
Our Pedigrees
Submitted by: Luis on Nov 23, 2021
I purchased Robbie, a 2 1/2 year old male from Clint.
He is very gentle with our our 2 granddaughters. He has an excellent disposition and is a very good house dog. Friends just can't believe how well mannered he is and how she listens to every command.
Out in the field he hunts with good range, is rock steady on point, and retrieves. Simply put, he's a "hunting machine"!
Thanks again,
Luis
Submitted by: Justin Smith on Nov 23, 2021
I am so thankful that I reached out to Clint to help me solve the issues I was having with a French Brittany I bought from another "breeder". I bought him as a started dog and I got a half afraid, poorly adjusted pet. Lesson learned. Clint (and Bud) took the time to address the issues we were having and worked with me three times a month for 3 months at his farm. By the end of the summer, my dog was performing and had fully adjusted to our family. Thank you Clint for taking the time to fix the issues that were passed on to me.
Justin, Clearwater, MN
Submitted by: Erick Williams on May 07, 2021
Like many people I have talked myself out of using an outfitter over the years because I thought I would leave disappointed and feeling like I had wasted time and money. Well... with much encouragement from my wife we decided to go on a upland hunt with Clint in Bloomfield, IA in early November 2020. We are both in the medical field and were WAY over due for a vacation thanks to COVID. I was to hunt for 3 days while she rested and enjoyed being away from the hospital. To say Clint, Will and their French Brittanys were amazing is an understatement! My wife and I were made welcome and within a short time we all knew each other's names and felt like friends. All of these things are why we will be returning soon! I will not be concerned that I may be wasting my money! As far my time ... it was absolutely perfect! It rarely happens that you are in the right place at the right time but when it does WOW! Thanks to Clint and Will and all our new dog friends at Sur le Delavan Kennel. We will be back!! Erick
Submitted by: Brian Hilst on Apr 29, 2021
Great experience dealing with Clint and Budd. They very knowledgeable about the EB and take a lot of pride in the dogs they train. We couldn't be happier with the work they did.
Submitted by: Jed Hill on Apr 29, 2021
We got a started dog from Clint in 2020. After shopping for one for the better part of a year we went with Sur le Delavan Kennel. It turned out to be a great thing we did. We spoke to many breeders and they all want to keep breeding rights, to have the dog fix, or keep registrations. Not Clint, he sold us the dog with NO strings attached. On top of that he was the only one who truly had a stated dog ready for hunting. Clint was one of the only kennels we spoke to that train EBs and does so at a very high level.
Submitted by: Tony Allen on Apr 29, 2021
Thank you, Clint.
I want to drop you a short note to let you know (please feel welcome to share this with others) how pleased we are with our puppy. Thank you for taking the time you do with each puppy. It was clear he was exposed to many things before coming home. Bold is the understatement for him. He fears nothings at all. I can't wait to get him back it you this fall for training!
Tony
Submitted by: Jim M on Jan 07, 2021
I had the good fortune of Clint and his family purchasing a female pup from me back in 2008. At the time, no one could envision that would become such a life changing event. Considering Boo "A'Beaujolais de Pataula" was my first Epagneul Breton and I only hunted with her (no trials), it was Clint that took it to the next level and beyond. Lucy turned out to be a Grand Champion of the Field and produced some of the finest dogs in the country. Clint, with the help of his wonderful family, became a top (if not the top) breeder, trainer, judge and representative of the breed. When I decided on another pup, I contacted Sur le Delavan and purchased Jipsie, who has exceeded my expectations - with the help of Clint's training and advice. His tireless efforts have helped countless owners and dogs become the best they can be.
Submitted by: Ryan S on Jan 07, 2021
I was very pleased to see how far my young dog had made it in 3 months of training at Sur le Delavan Kennel. When I drop her off, I hadn't done anything field related with her. At pick up she is excitedly pointing, hunting hard in the field, retrieving to hand, not gun shy in anyway. She is 100% steady to release to retrieve and honoring other dogs points. I couldn't be happier. While I will not be field trial or hunt testing, I will be hunting over a very finished dog this fall.
Submitted by: Nancy on Jan 07, 2021
Anyone interested in a top quality puppy or training: You need to take the time to check out Sur le Delavan Kennel. Clint took many of my phone calls and never pressured me to make a down payment or to offence when I asked or talked about other breeders. He spoke very highly of other breeders and their dogs. He will take the time to talk about the national club and why shows and trials are important even though I was at the time interested in either of those things. I was surprised to hear that a top breed like Sur le Delavan didn't charge as much as many of the other breeders out and even more surprised that lesser proven breeders were changing even more for their puppies. You owe it to yourself to give Clint a call before picking out your puppy.
Submitted by: Scott on Jan 07, 2021
My training partner at NAVHDA; Ralph Ricci, has a LaFary dog. Ralph used to be the running back at Northwestern University in the 80's and now spends his free time chasing birds & putting up with me!!! Seriously, I had my doubts when I first saw Topanga (Mademoiselle Sur LeDelavan) but she proved me wrong. She is so small for a hunting dog! (30 pounds?) I laughed so hard last fall when Ralph dropped a wood duck in the creek over her and she brought is back! The wood duck was as big as her then! The dog is a firecracker who is VERY cooperative, has an intense point and natural retrieve instinct. Topanga is also demonstrating good sign that she can handle more complicated training such as steadiness on point and by the blind-yes the dog also dove hunts!. Ralph and Topanga are a good team and are good representatives for NAVHDA, LaFary Kennels and the Breton breed. We train on public land in Wi. and people always approach Ralph & ask him what kennel the dog is from, etc. What they have to realize; however, is that these dogs are not robots and need time & training to develop just like other dogs. Who knows, maybe my next dog will be out of LaFary :-)
More Reviews for Sur le Delavan Kennel
Submit your testimonial