Froman Chesapeake Retreivers - Illinois Chesapeake Bay Retriever Breeders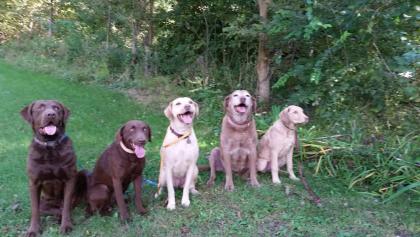 About Froman Chesapeake Retreivers
Small family kennel.  Females bred no more than 1 litter per year.  Pups raised in the home.   Wonderful retrievers/water dogs.  After hunting season is over, they are loving family pets.  Parents have had health tests.  26 month guarantee on the pups for their hips and eyes.  We should have pups ready for their new homes in Sept, 2018.
Hunting Dog Breeds Raised
Chesapeake Bay Retriever
Additional Services
Stud Services
Breeder Contact Info
Testimonials (4)
Submitted by: tj henson on Jul 12, 2012
We purchased a male chessie from the Fromans in 2010. Being my first chessie I had a lot to learn. I cannot say enough good things about the Fromans. They truly care for the breed and stand behind their pups. They were concerned about what type of home their pup was headed too. At two years old I have never seen a more trainable and attentive dog, he is 70 lbs and full of prey drive yet he will sit in a goose blind without any hassle.
Submitted by: Dennis & Donna Rebhuhn on Apr 23, 2012
We have two Froman Chessies. Litter mates, a male and female from their 2011 litter. We love them! They are good natured and trained easily. They get along well with our two older dogs. We couldn't have asked for sweeter pups. They are energetic and playful.
Submitted by: Justin York on Sep 30, 2009
I purchased a puppy from the Froman's at the end or May 2009 (Ruger). From the time we got him home he has been an amazing dog, wonderful with my 13 month old daughter, great swimmer and HUGE desire to fetch and hunt. I can't believe how well tempered and trainable he has been. I can't wait to see him this duck season.
Submitted by: Dan Thomas on Mar 21, 2009
We purchased a Chessie from their 2008 litter. You couldn't ask for a better dog. He is great with our 3 young children. He loves the water & is an excellent hunter. We've been Lab owners in the past, but now are so happy we got a Chessie from the Fromans.
Submit your testimonial