All-American Chesapeakes - Illinois Chesapeake Bay Retriever Breeders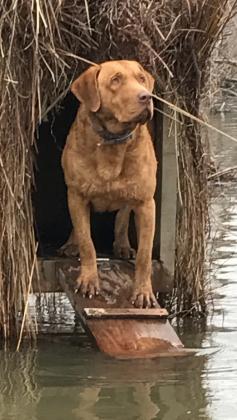 About All-American Chesapeakes
All-American Chesapeakes is located along the Illinois and Sangamon Rivers. Hugh and Kris Carlock are the owners and have been in business for approximately 7 years. The Carlocks have hunted chesapeakes since 1892 with the legendary market hunter Lew Carlock forging the way. Hugh is the co-owner of Fowl Manor Duck Club which borders Crane Lake and the Sanganois Wildlife Refuge. This is where Blitz and Myah have retrieved several hundred ducks and geese. Myah has a litter that was born June 1, 2019 and will be ready July 27th. Dakota had a litter June 15, 2019 and will be ready August 10th. We are accepting deposits!
Hunting Dog Breeds Raised
Chesapeake Bay Retriever
Breeder Contact Info
Testimonials (1)
Submitted by: Derek Bollhoefer on Aug 14, 2019
Great dogs, bread by great humans! Our pup is the smartest dog we have ever owned, well mannered--non aggressive and a beautiful animal that embodies the breed standard. Male, 10 months old.
Submit your testimonial