TREBORWOLF KENNEL - Idaho Deutsch Drahthaar Breeders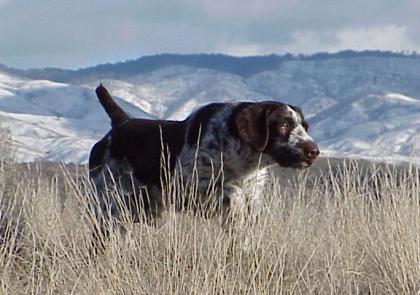 About TREBORWOLF KENNEL
AMERICA'S FINEST GUNDOGS
THE BEST DRAHTHAAR THAT MONEY CAN BUY
OLDEST WIREHAIR KENNEL AROUND
DRAHTHAARS BEST KNOWN FOR POINTING AND RETRIEVING
FIRST SCHWARZSCHIMMEL DRAHTHAAR KENNEL IN AMERICA
ONE YEAR REPLACEMENT WARRANTY
WIREHAIRS BRED FOR BRAINS AND INTENSITY
NOT AGGRESSIVE
NOT A HERE TODAY GONE TOMORROW KENNEL BUSINESS
45 YEARS OF BREEDING THE BEST DOGS THAT MONEY CAN BUY!

Hunting Dog Breeds Raised
Deutsch Drahthaar
Additional Services
Hunting, Training, Stud Services, Boarding
Breeder Contact Info
Testimonials (1)
Submitted by: Robin Coleman on Jan 17, 2011
This is a top notch breeder. One who cares not only about the animal,but aobut the purchaser as well. My father has purchased 2 dogs for the West famliy. The first dog was an all around hunting dog. and the best family friend ever. My youngset sister is mentally handicapped and Hindrick was a wonderful dog with her. He hunted every thing. When he died in the early 90s dad said he was going to get another one and he did. Bismark was also an all around hunting dog. But dad got him for his superior blood line. That dog could lose his rubber ball out in the woods near our home and find it weeks later. I am looking to get my own from this kennel.
Submit your testimonial