Top Gun Retrieverz - Idaho Labrador Retriever Breeders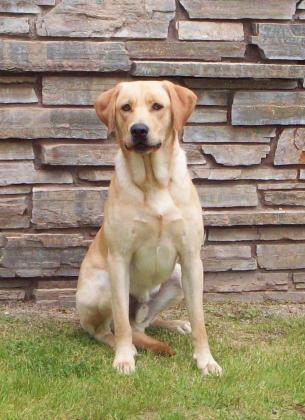 About Top Gun Retrieverz
We are located in Rigby Idaho and we specialize in breeding high quality gun dogs that retrieve with style and perseverance. Our dogs are thoroughly trained and hunt test titled, we will only breed dogs that have proven that they can do the work. We offer a 26 month Hip and eye guarantee on all of our puppies, and free one on one training with you and your puppy. At a bare minimum all of our dogs have certified Hips and Eyes. We spend alot of time socializing our puppies and introducing them to loud noises, birds, and water when weather permits, and start them at retrieving, due to the time that this takes we restrict our breeding program to 2 to3 litters per year. please check our website for more info. or to see if we have an upcoming litter.
We also offer training services as well, with over 20 years of experience training retrievers we have the know how to make your retriever the best that he can be. We have taken dogs through all levels of hunt tests, Junior, Senior and Master level and can help your dog or you and your dog prepare and run hunt tests to the best of your ability. We have also competed successfully in field trials in the Derby and Qualifying stakes. please give us a call to see how we can help!
Hunting Dog Breeds Raised
Labrador Retriever
Additional Services
Training, Stud Services
Breeder Contact Info
Testimonials (2)
Submitted by: Ryan Wellard on Aug 29, 2011
I purchased a puppy from Justin out of a Cougar*fire breeding and all i have to say is WOW what a great dog. I worked with my pup and Justin for about three months before starting to run hunt test with my new dog. I titled my puppy at the age of eight months thats right eight months old. These dogs have so much instinct that it is crazy. This has been by far the easiest dog i have ever trained my pup is now eleven months old and will be running senior hunt test next year. If your looking for a dog that is great in the field and great around kids purchase a top gun retriever you will not be disappointed. Justin know so much about dogs that if i have any questions he is a phone call away and can walk me through my issues over the phone. If you are looking purchase one of his pups they are amazing to watch and the parents are just as great. I WILL RECOMMEND A TOP GUN RETRIEVER TO ANYONE THAT IS LOOKING HANDS DOWN BEST DOGS ON THE MARKET
THANKS JUSTIN IT HAS BEEN A PLEASURE WORKING WITH YOU AND YOUR DOGS AND LOOK FORWARD TO A FRIENDSHIP FOR MANY YEARS TO COME AND I WILL BE BUYING ANOTHER PUP FROM YOU IN A HEART BEAT.
THANKS AGAIN
Submitted by: samantha on May 19, 2010
We got our puppy Abby from top gun retrievers about 2 years ago and she has been a welcome addition to our family. She has always been very good with our kids and is all business in the duck blind. Even with the very limited training that we were able to give her She never missed a beat on her first duck hunt and took to it naturally. She now has lots of hunts under her belt and she absolutely loves it. I have been very happy with our puppy from top gun retrievers and would highly recommend them to anyone.
Submit your testimonial