Three Devils Kennel - Idaho Deutsch Drahthaar, German Wirehaired Pointer Breeders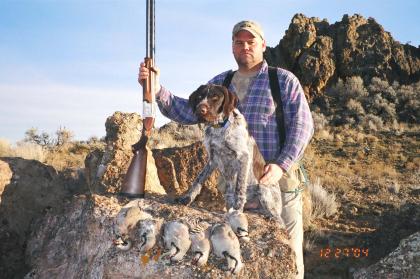 About Three Devils Kennel
Breeding and Training Superior Gun Dogs Since 1986
Gun Dog Training February-September
GWP pups and trained dogs for sale
GWP Stud Dogs
Training on Wild Birds September-January
Versatile Hunting Dog Federation Training and Testing
Hunting Dog Breeds Raised
Deutsch Drahthaar, German Wirehaired Pointer
Breeder Contact Info
Testimonials (2)
Submitted by: Bruce Carroll on Feb 22, 2021
Gus is 8 years old and has exceeded my expectations. He is used mainly for pheasants chuckars and quail. I have had birds go down in the water and he doesn't hesitate to go in. When not hunting, he is my best friend and outside working or laying around inside. Thank you Jeff for great dog.
Submitted by: Mike Breyman on Aug 04, 2014
I have had (3) of Jeffs dogs and all (3) have been outstsanding in the field.(Hunt valley quail, Mountain quail, ducks and geese) The dogs have been bulletproof when it comes to health issues. I would have no problems choosing Three Devils Kennel for another dog.
Submit your testimonial