Snowy Lane White Labs - Idaho Labrador Retriever Breeders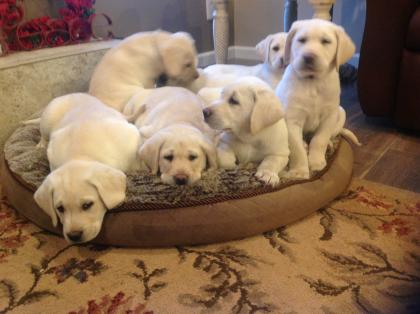 About Snowy Lane White Labs
We are a small family run kennel in the beautiful Magic Valley of Idaho. Our kennel consists of 3 females, Priscilla, Primrose and Pandora. Ours sire is Sir Finn Bullock of Filer, Idaho. All three dogs have excellent bloodlines and all test good on genetic tests of eyes, hips, etc.   These puppies are beautiful with wide noses, blocky heads and are muscular with heavy otter tails.  Colors range from pure white to a beautiful creamy color.  They are very sweet and even tempered.  Their favorite pastime is cuddling.  Within the last 2 days they have discovered water and are fascinated with swimming.  Their sire is a great hunting dog out of Titan and Bolt of Snowy Pines kennel and weighs nearly 100 pounds.  Mother is smaller and weighs in at about 70 lbs.  We only allow limited registration. Price on these beauties is just 950.00. A real bargain when you look at their pedigrees. We ask for a 250.00 deposit and the balance of 700.00 is due at pick up. Such sweet dogs.
Hunting Dog Breeds Raised
Labrador Retriever
Breeder Contact Info
Testimonials (1)
Submitted by: David Carlson on Mar 03, 2016
My new best friend Buck is 10 months old. He is incredibly smart, a fast learner, well behaved and I am amazed by the number of strangers who comment "What a good looking dog!". He lives to retrieve and loves the water. His first water retrieve was at 10 weeks! I am impressed with this puppy.
Submit your testimonial