One Rose Kennels - Idaho Wirehaired Pointing Griffon Breeders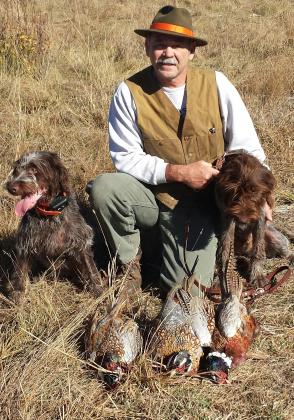 About One Rose Kennels
Breed Wirehaired Pointing Griffons for hunting. Here at One Rose Kennels, we feel that it all starts with the right temperament. Only candidates that are family companions, eager to please and have the drive to hunt, are used in our breeding program. All puppies have current shots, tails and dewclaws done by a licensed veterinarian. Our dogs are family dogs that light up in the field. All puppies are handled from the day they are born. Puppies come with a health guarantee. Air shipping available, cost by buyer.
Hunting Dog Breeds Raised
Wirehaired Pointing Griffon
Additional Services
Stud Services
Breeder Contact Info
Puppies for sale
Testimonials (7)
Submitted by: Christie Triller on Dec 20, 2021
Can't thank Theo enough. I have the BEST companion named Hamilton. We don't hunt but Hamilton has caught 4 birds on his own :) He is the light of my life. So incredibly smart, loving, gentle and insanely athletic. He's my little boy and I adore every bit of him. Thank you Theo!
Submitted by: Jeffrey Johnson on Nov 02, 2017
Great experience and an amazing dog (Zeus), he's now 17 months old and has been a great addition to our family. It's incredible how smart and easy to train these dogs are. Very satisfied with Leo and planning to pick up another pup next spring.
Submitted by: Curt Jensen on Nov 05, 2016
George is a great dog Leo Fitz. First time in a long time to get limits of birds in South East Nebraska and not worry about finding the birds after the point. Thanks again Leo Fitz.
Submitted by: Curt Jensen on May 23, 2016
Just a update on George. I took George to his Navhda test on 5/14/16. He performed beyond any thing I could have hoped for. Prize 1 (110/112possible). Had many compliments on his form and how he held point and held even after the flush. During ths water test retrivede to hand like a champ. I had many compliments on disposition on how calm he was around all the dogs and many children , and adults. Thanks again Leo looking forward to seeing what the future hold for George and myself this season .
Submitted by: Dale Smith on May 03, 2016
Leo after one year now Riley has worked hard on his points and to his credit has extensive hunting instinct bred into him. He is easy to train , inquisitive and extremely smart. He continues to perform better than most pointers I have had previously. Agile , great nose and wants to please all the time. For a one year old dog his name should be Wow. If you have another litter forth coming please let me know as I am certainly looking for a second pointer and I have a few friends that are very interested including a very good dog trainer that has seen him work at such a young age. He outperforms most dogs and is steady to point , easy to train. Nice to see such a breed line that you have developed. Keep in touch.
Submitted by: Curt Jensen on Apr 14, 2016
I would like to thank Leo at one rose kennel. He went way out of his way with the air lines and getting my pup to the airport. The pup I received was way more than I could have hoped for. George has been the easiest dog to train that I have ever had. He gets along with my other dog and my friends dogs,gets along with all kid and adults. The most important thing would be is that he is very hard charging in the field and loves the water. He sets up real nice when on point and holds a steady point and will retrieve anything to hand. I could not have been happier with George. Thanks again Leo I will hopefully doing more with you in the future.
Submitted by: Dale Smith on Dec 29, 2015
Picked up new male pup (Riley) April 11, 2015 now has at least 50 - 60 pheasants and 30 partridge or so wherein he is tracking and retrieving birds. Pointing is ongoing however only 9 months now training extensively. One of the best male dogs I have had and very intelligent with a great personality. Good work Leo in bringing the breed line forward testament of your good breeding . Absolutely thrilled with this dog.
Submit your testimonial