Mort Brothers Kennels - Idaho American Brittany, Wirehaired Pointing Griffon Breeders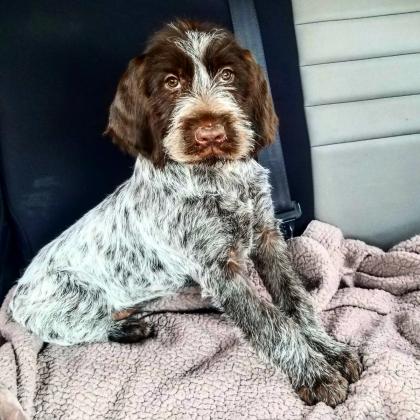 About Mort Brothers Kennels
We are breeders of Brittanys and Wirehaired Pointing Griffons. We raise these dogs with our parents and grandparents to help pay for our college. Our dogs are home raised and handled daily. Our kennel is clean and small in order to raise great family and hunting dogs. We have grown up hunting and love all of our dogs like family.
We currently are taking deposits for future litters to be born in @ August of Wirehaired Pointing Griffon. The deposit amount is $400 with a total cost of $1400.00. Contact Katie at 208-431-1971.
We no longer will be breeding Brittanys. Our mommy Brittany has retired from breeding.
Hunting Dog Breeds Raised
American Brittany, Wirehaired Pointing Griffon
Breeder Contact Info
Testimonials (4)
Submitted by: Ethan Collins on Dec 08, 2018
It was truly a pleasure to work with the family at Mort Brothers Kennel. They truly care about not only the dogs but the customer as well. They made the whole process from visiting their kennel before there were even puppies to the day of picking. We received our puppy Boone, a Wirehaired Pointing Griffon towards the end of October and he has been truly amazing. He loves pheasant wings and anything that even looks like a bird. On picking day the whole family was there and assisted in the picking process and was able to identify exactly what we were looking for in a dog and point us in the right direction to which dog would fit our needs the best. I would recommend Mort Brothers to anybody who is looking for a Griffon, they will give you the best experience of getting your new gun dog.
Submitted by: Karli Flannery on Oct 18, 2018
I can not even come close to expressing how amazing this family is. We got our Brittany puppy from them and they are absolutely the best. They went well above and beyond for us. Their dogs are beautiful, smart and so well cared for. I would recommend them to anyone hands down !
Submitted by: Brandon on Mar 19, 2018
I highly recommend you talk to Mort Bros. It was my first time ever using a breeder and they were very patient and professional with all of my questions and requests for photos. We received documentation of our deposit, payment, and the dogs were vaccinated twice at 10 weeks. When we arrived at their kennel it was obvious that this family had been breeding dogs and hunting for generations. The facilities were clean and they hosted a wonderful meet and greet with the Sire, Dam, and the male dogs we were interested in. Sire Goose and Dam Fenway put out some very beautiful dogs with various coats and temperament. The decision was difficult as we teased the provided pheasant wings around their kennel in front of the pups. The dog we chose is an absolute joy at twelve weeks. He confidently completes small retrieves, points birds, is well on his way to housebroken, and kennels cooperatively. We couldn't be happier with Doc and receive compliments regularly. If you want a great looking dog with a temperament to match, Mort Bros. will take care of you.
Submitted by: wendell c murphy on Jul 20, 2017
Bought two pups both in good shape. Kennel was clean and dogs had plenty of room to play and run. Have had them for about a week now and both are full of energy and even showing good interest in birds. Thanks Mort Bro. for some dandy dogs.
Submit your testimonial