Helvete-Hund Kennel - Idaho Weimaraner Breeders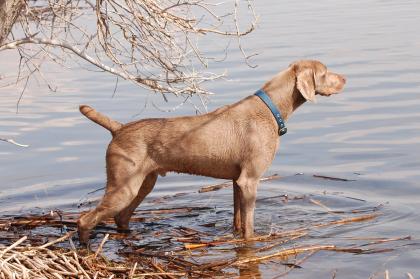 About Helvete-Hund Kennel
Our Dogs are performance Hunting/Family Dogs. They have great field drive, temperament, and trainability. They come from performance blood lines. They have been hunt tested through NAVHDA with excellent scores. They train and hunt avidly throughout the year. We have their hips and eyes done and both scored excellent. We are active in NAVHDA.  Ash received an OFA Excellent, and Abby received Top 90% in PennHip.
We worked and trained extensively with our Dogs to achieve their great scores, so they could earn their breeding status.
Thank you Dawna of P.M. Weimaraners for all your help, insight and beautiful, excellent dogs.
Hunting Dog Breeds Raised
Weimaraner
Breeder Contact Info
Our Pedigrees
Testimonials (5)
Submitted by: Jeff Bowers on Jan 25, 2015
I don't do a lot of testimonials, but I feel Wayne deserves one. I had the recent pleasure of purchasing one of his beautiful pups. All along the way, Wayne took the time to explain his breeder philosophy and really wanted to know what kind of environment his pup would be living in before I was allowed to make a purchase. He really cares for the future of all his pups, and in my mind, this is a mark of a good breeder. Young Jager came to our home perfectly socialized and already shows the basic skills of an instinctive hunting dog. Wayne's family clearly really cares about their dogs, and he knows what he's talking about when it comes to Weimaraners. It was a pleasure doing business from the first phone conversation to the day we picked up our pup. Thanks so much Wayne!
Submitted by: Chris on Nov 09, 2014
Wayne and his family take excellent care of their dogs. I have had the privilege of meet all Waynes dogs and puppies, they are all very well socialized and happy. The puppies are raised in a loving home environment.
Submitted by: Aleasha on Aug 18, 2011
The Burton's are dedicated to their pups! We are so pleased with our "Miles" and all the information we have received. They are supportive and informative not only prior to you meeting your pup but, also after you've received him/her. We are a little overly excited about having our pup run with us and be involved in our hobbies. The Burton's sent information for both hunting with our Miles and running with him which is one of my favorite hobbies. Their genuine care for their pups well being and new homes is exemplified by the information, resources, and communication they maintain. Miles is our first Weimaraner and we are excited to invite him in our family. The Burtons have made the process of introducing him into our lives and home a successful one thus far! Thank you Wayne and Stephanie, for the newest addition to our family and all the support you have given!
Submitted by: Russell L. Powell on Jun 10, 2011
Wayne and Stephanie have always done an excellent job when it comes to caring and training for their dogs. I've hunted with Wayne and his dogs for several years now and never have been disappointed yet. His dogs travel well and mind very well , but one of the best things I personal like is how the dogs can clear an area. He treats his dogs not just as animals but like family.
Submitted by: Dawna Miller on Jun 06, 2011
The Burtons have done an excellent job with their dogs they purchased from me. Dedicated owners that train and HUNT their dogs. They are also a huge part of their family and I have NO doubt that the pups will be socialized as well as exposed to birds at appropriate age. These pups will have excellent conformation and health as well as stellar hunt drive. I am proud to say their dogs came from PM Weimaraners and am behind them 100%. Anyone looking at these pups for a future pet or hunting partner will be completely satisfied. Both parents tested in NAVHDA with excellent scores and outstanding results to OFA, CERF. Great Job Wayne and Stephanie!
Submit your testimonial