DayRidge Canine Facility - Idaho English Springer Spaniel Breeders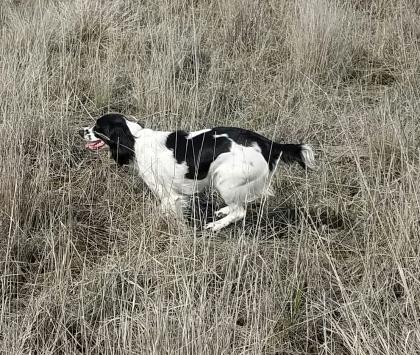 About DayRidge Canine Facility
Sound and solid hunters or trial prospect. We compete in Field trials, hunt tests, obedience, rally and agility. OFA hips, knees, elbows, eyes, heart, pra and pfk tested on all adults and DNA profile with AKC. Puppies, started dogs and occasionally retired pets, send us an email.
Hunting Dog Breeds Raised
English Springer Spaniel
Additional Services
Training, Stud Services, Boarding
Breeder Contact Info
Our Pedigrees
Testimonials (4)
Submitted by: Annette Schall on Apr 02, 2022
We got our pup from Dayridge, and she's a gem! She is everything we wanted and more. Such a smart and sweet dog. She gets along with our other dogs, loves birds, is well adjusted and thinks nothing of loud noises. (She even loves the vacuum cleaner, chases it just like my boys do.)
Definitely worth it to get the killer deal training package with your pup. Can't emphasize that one enough! It saved me so much time, headache, and money just in fees for classes and training here at home. She is crate trained and potty trained. I can't express how much I appreciate having a dog with manners from the beginning! All the awesomeness and none of the frustration. We just fast forward to the fun part now.
Submitted by: Marge Carlson on Jul 23, 2014
Two years ago in 2012, our pup "Spike" was born. When we went to pick out a pup (which is extremely difficult because all the pups are gorgeous), he picked us. Spike has been the greatest dog. He is mild-mannered, intelligent, active and a lover. At 6 months he was Chukar hunting and retrieved his first Chukar, dropping it at my husbands feet. He is definitely a bird dog, is not afraid of the gun and loves to go. Spike was everything we wanted in another Springer (he is #3). Thanks Christy for a great friend.
Submitted by: Dianne Richmond on Oct 13, 2011
We are fortunate to have two littermates from Spirit and Shiko. They are our best friends. Easy to train, happy to be with you, protective of their home and people. Dolly has a very soft mouth, they both show interest in the geese that are flying overhead and doves when they are near. Ruby runs the yard and quarters on her own, nose to the ground. We chose both of them for pets and have not tried to train at all for hunting. They worked very nicely in obedience training. The trainer gave them high compliments on their temperment and willingness to please in class. We had to get another this fall so now we have one of Sables. Our girls love him, very gentle with their rowdy brother.
Submitted by: Connie on Oct 02, 2010
We just went back for our second springer from Christy and Charles. Our first one is four and a hunting fool! We are very pleased with the quality of dogs these guys produce, and the quality of care and love they have for their dogs and all of the puppies they bring into the world.
Great job guys keep it up!
Connie and gang
Submit your testimonial