Broken Bow Kennels - Idaho Wirehaired Pointing Griffon Breeders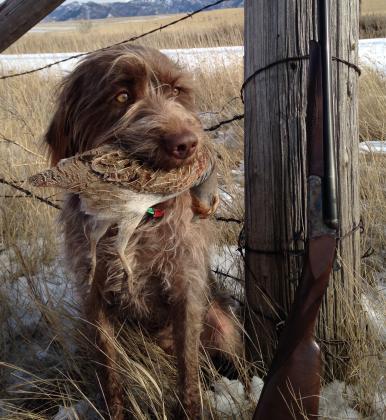 About Broken Bow Kennels
We are a small, family run kennel in Southeast Idaho dedicated to breeding and raising top quality Wirehaired Pointing Griffon puppies. We breed hunting dogs for hunting families and expect our dogs to be able to hunt and retrieve 40 to 60 days per year over any terrain.  Our kennel is extremely selective when it comes to the pairing of sires with dams that will produce consistent offspring to meet the needs of the hunters they serve.  Our dogs are bred to ensure excellent genetic health, quality confirmation and a strong, natural hunting instinct. Also of great importance to us is producing a loyal family pet. All of our dogs are raised under foot in our home. We have 3 young boys who take the lead in socializing the dogs. We hold our dogs to a high obedience standard as well. A Broken Bow puppy can be expected to excel in the field today and the show ring tomorrow. We are currently taking reservations for our upcoming litter.
Hunting Dog Breeds Raised
Wirehaired Pointing Griffon
Additional Services
Stud Services
Breeder Contact Info
Testimonials (3)
Submitted by: Steve center on Sep 14, 2016
My pup has turned 4 months old now and has been a dream. After searching for a good kennel to get my first Griff / first hunting dog, I settled on Sean with Broken Bow. I knew after the first call to him that he knew what he was doing. My pup was selected for me after a number of very important questions were asked. They take into account your home life and hunting /hobby life to place you with just the right dog. I can't say enough good things about my experience with Broken Bow Kennels. It was so goo actually, 2 months after bringing my pup home, I called them back and put my name on the list to get a 2nd Griff. I've had many questions for Sean since bringing my pup home and he's answered all my questions and given me tips along the way. He's keeps in touch so you can rest assured he's not going to give you a lame dog and lose your number. Great people with the best pups.
Submitted by: Mark Rossow on Sep 14, 2016
If someone is considering a Wirehaired Pointing Griffon pup I will tell you to go directly to Sean and Monica as I can't imagine that any Griffon breeder could provide a better pup. I picked up my pup from them in July 2016, and I couldn't be more pleased. The pups are socialized daily with Sean and Monica's children, the pups are introduced to live birds, and gunfire, and most importantly Shea, the matriarch of their kennel is a very, very impressive girl. The day I picked up my pup I was invited to accompany Sean and othe folks to some field and water NAVHDA training. So I watched Sean take Shea thru the field work, with live birds, and she was impressive. Steady to the shot, great points, perfect retrieves, all while a half dozen of her pups were still at home. I understand that Shea has since earned a Prize III with the second highest score of the field on her recent utility test. Highly recommended breeder...you won't be disappointed.
Submitted by: David Chen on Jul 13, 2016
I picked up a fine Wirehaired Pointing Griffon male from Sean a few days ago, and I couldn't be more satisfied. After a couple weeks of researching for breeders, I decided on Broken Bow Kennels because of the knowledge, helpfulness, and trust that Sean provided. The puppy that I was placed with was specifically tailored for my hunting- and house-needs. The more time I spend with my pup, the more clear it is that no short cuts had been made by Sean and his kennel. The pup was clearly well socialized during its time with Sean. I would strongly recommend Sean to any potential WPG buyer out there!
Thanks again Sean!
-David
Submit your testimonial