Boag Golden Retrievers - Idaho Golden Retriever Breeders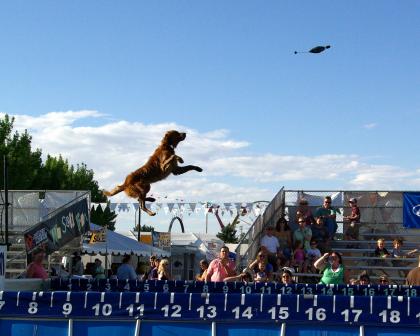 About Boag Golden Retrievers
We are a small Family in Boise. We love the Golden Retriever Breed. My female has never hunted, but the male I bred to is a brother to world champion splash dog golden gunny. We will have the next litter available in aug of 2011. Another litter available in oct. 2011. That litter will be out of the splash dog champions direct daughter and pick of the litter. Taking deposits now.
Hunting Dog Breeds Raised
Golden Retriever
Breeder Contact Info
Testimonials (3)
Submitted by: Lori Braseth on Aug 21, 2011
Aug. 2011 We purchased a female puppy form the Boag's. Although it has only been 2 weeks and our new puppy, Kinzie, is only 8 weeks old, we have found that she is extremely alert, but not crazy hyper. She has slept through the night in her crate since night 1 and there have been 0 accidients. She already knows commands of sit, down, and is retrieving on command. We are very excited for her potontial. What a great dog we think she will turn out to be.
Submitted by: Kaci Haven on Aug 16, 2011
I own a direct daughter of Gunny. He is the Splash Dog Golden Champion. She is got a great personality, loves the water, and retrieves anything you can imagine. Boags are very knowledgable with this breed and are great at matching you up with the perfect pup and your new best friend.
Submitted by: Arron Adams on Sep 17, 2009
I bought a puppy from the Boags. I live in Nebraska and finding quality dogs is not easy. I met up with them and my wife and I loved the puppies. He is six months old now and he is finding birds and retrieving them with no problems. He loves people and the water. i have plenty of training pictures if anybody would like to see them.
Submit your testimonial