Big Island Gun Dogs - Hawaii Braque Francais Breeders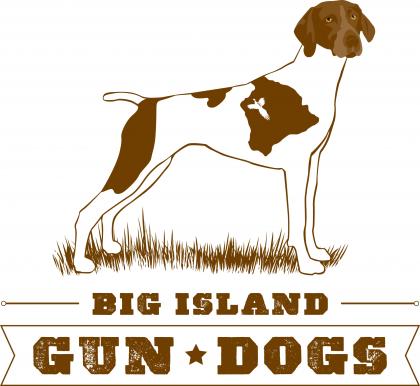 About Big Island Gun Dogs
Aloha, and welcome to Big Island Gun Dogs. Located in Kailua Kona on the slopes of Mt. Hualalai, we are a small and upcoming family oriented breeder of the Braque Francais. We became fascinated by this breed due to their medium size, gentle temperament, natural hunting abilities, and affectionate personality. Not only are they great hunters, but are also great family pets in and around the home because of their gentle nature! We are located minutes from Mt. Mauna Kea, home to an abundance of upland game birds. Our dogs hunt a variety of pheasant (ring neck, blue, green, kalij), quail (california, gamble's, japanese), francolin (grey, black, erckel), chuckar, sandgrouse, doves, and turkey. We are committed to maintaining the integrity of the breed and producing healthy and happy quality pups. We perform yearly OFA eye exams and OFA hip testing on all our dogs. Kai and Aimee have both been cleared OFA for eye's with certifications. Kai rated excellent for OFA hips and Aimee rated good. Our youngest Braque Lilikoi (Lili) will be tested for eyes soon and hips at 2 years of age. Kai and Aimee are registered CKC, UKC, NAVHDA, American Field Dog, and CBFNA. Lili is registered with UKC, NAVHDA, American Field Dog, and CBFNA. All our pups will be UKC and NAVHDA registered. We are also members of Haleakala Field Trial Club on Maui, Kai has competed in his first field trial and we plan on our other dogs competing as well. Lili who joined us in December completed her NAVHDA natural abilities test in October 2015 and earned an impressive "prize 1" with a perfect score of 112 at just 7 months of age! We are planning a late fall/early winter breeding at the end of November 2016 with our dam Aimee and stud Kai. If you are interested in a great versatile hunting dog, please contact us by phone or e-mail with any questions. Mahalo, Eric and Trishia
Hunting Dog Breeds Raised
Braque Francais
Additional Services
Stud Services
Breeder Contact Info
Our Pedigrees
Testimonials (3)
Submitted by: Roger Poole on May 10, 2020
Great Braque Francais, lots of bird drive. Eric cares about his dogs and highly recommend this breeder!!! We have a male Braque form Big Island Gun dogs he is almost all liver color, very nice dog.
Submitted by: Lisa Danner on May 10, 2020
I have a one-year old Braque Francais from Big Island Gun Dogs, and I am thoroughly enjoying him. He is so easy to train, and loves both his canine and human buddies. He is doing fantastic with his field training, showing a lot of maturity for his age.
Submitted by: David Johnson on Oct 12, 2016
If you want a first-class bird dog, three things matter most: the breed, the breeder, and the breeding. The Braque Francais breed is an underappreciated gem. Braques have not been wrecked by show breeders, so the large majority are bird dogs to-the-core. They hunt hard and smart, they handle easy, and they have fine style. They also tend to be smaller and more laid back than GSPs, and they make wonderful companions and house dogs. As for Eric and Trish, the Big Island Gun Dogs breeders: they are first class in every way. They know bird dogs. They hunt wild birds with passion. They have gone to great trouble and expense to bring top quality Braques to Hawaii. And they are as kind and considerate as anyone I have met in the bird dog community. The breeding of Kai x Aimee and Kai x Lili will produce superb bird dogs that are a pleasure to live with and easy on the eyes, because all of these parents are that and more. Hawaii is fortunate to have breeders and bird dogs of this quality. David Johnson on Oahu in Hawaii
Submit your testimonial