Ruff On Birds Kennels - Georgia German Shorthaired Pointer Breeders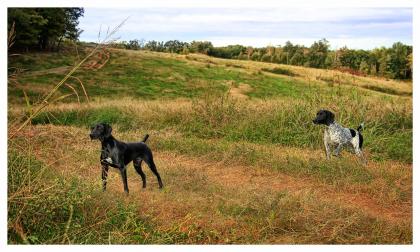 About Ruff On Birds Kennels
Ruff On Birds GSPs are proven hunting dogs and carry NSTRA Champion Titles! Our dogs are CHIC certified for good health. NOT ONLY do our dogs have high prey drive for hunting, but they also excel at every job you give them. Ruff On Birds German Shorthaired Pointers are sought after for their versatility. Our puppies have gone on to be professional search and rescue dogs and certified therapy dogs. We take our hunting dogs dock diving during the off season, and exercise them daily out in our beautiful field. So there you are......Good looks, good temperament, and proven natural ability to HUNT!! Call us to schedule a time come out and meet our GSPs! We look forward to hearing from you soon!
Hunting Dog Breeds Raised
German Shorthaired Pointer
Additional Services
Hunting, Stud Services, Boarding, Birds for sale
Breeder Contact Info
Testimonials (2)
Submitted by: Rebecca Parsons on Aug 08, 2012
I am not a hunter but wanted a high energy, easy going dog for hiking, Stand Up Paddle Boarding, and Agility. I choose a beautiful Liver Roan female from Jesse's 2011 December Litter.
She is now 8 months old and 41 lbs. She hikes with me almost every weekend carrying all the water in her backpack. She hasn't perfected her paddle boarding stance yet because she likes swimming more than the likes relaxing. And we start Agility training in a month. She is going to be a real Agility Champ. She is very social with dogs and humans of all ages.
GSPs are not for the lazy owner but if you want a beautiful, easy maintenance (no grooming), ball of energy Tommy can set you up. He definitely gave me just what I asked for.
I'll be back for another one once my husband forgets how crazy a GSP Puppy can be. He also doesn't appreciate a great high energy dog.
Submitted by: Tim Goodrich on May 10, 2010
Great experience. I received my dog from a litter last January. Worked with Tom Wiley primarily. Quite approachable, cooperative, Nice guy. I chose breeder because I wanted a solid Black GSP. Dog is excellent. He is 5 months old and weighs 40 lbs. My 20 month old daughter crawls all over him, bounces on his head, shows no aggressiveness. Also the quietest GSP I have ever seen. Dog never barks! Great nose, naturally retrieving to hand at 5 months. Highly recommend breeder and his stock. Would purchase again if my wife leaves this one on the side of the road somewhere. She doesn't appreciate a good hunting dog!
Submit your testimonial