DIRT-BROKE KENNELS - Georgia English Pointer Breeders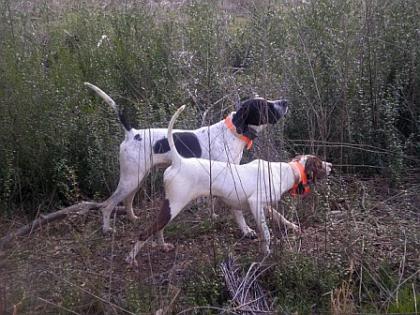 About DIRT-BROKE KENNELS
We believe in selective breeding and only
intend on having 2-3 litters per year and
training them for sale as started gun dogs
ready to hit the fields. We take great pride
in the time and effort put into each dog.
We believe firmly in the natural foundation
of the Elhew Pointer and refining our dogs
to have that very natural ability, intelligence
and beauty. If you can't bring something
complimentary to the gene pool - then don't
dip your toe in it! That is what we have
been doing for years now- being very
choosy, watching and studying our dogs to
determine who showcases those superb
natural hunting abilities AND good looks.

We take the responsibility of breeding very
seriously and we will never breed "junk
dogs". We do not breed "because of
papers" - we breed in addition to them.
Our dogs have to prove themselves in the
field before they are ever breed-worthy. We
aim for superior quality. Check out each
dog's pedigree on our DBK Pointers page
and see for yourself --- WE'VE GOT THE
BIG DOGS!
Hunting Dog Breeds Raised
English Pointer
Additional Services
Hunting, Training, Stud Services
Breeder Contact Info
Testimonials (0)