Crosby's Coastal Georgia Farm - Georgia Irish Setter Breeders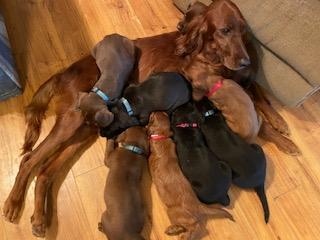 About Crosby's Coastal Georgia Farm
Crosby's Coastal Georgia Farm has state of the art condominiums and a heated and air conditioned nursery for arriving litters. I take pride in raising both pure breed Irish Setters who have keen hunting instincts and make pet/service/companion canine.  I have raised Irish Setters since I was 8 years old (64 years) so I know quality in Irish Setters. When I was 12 years old Queen, my Irish Setter, had 18 puppies at one time. Needless to say I learned quickly how to help Queen take care of an abundance of puppies. I retired from the military and public education and moved back to the family farm located in Baxley, Georgia. My retirement time is spent taking care of, training, and breeding my three Irish Setter. Raising and training Irish Setters is a passion. I usually only have an available litter around 18 months because I want to protect the health of all of my canine "family," but now Pollyanna and Sawyer have become family members and are ready to have their own litters so, I can now have 3 litters every 18 months..  Our main goal is:  "to provide quality canine that can take love and companionship into their "forever home" and to be capable of learning the skills involved in hunting.

Hunting Dog Breeds Raised
Irish Setter
Additional Services
Lodging, Meals, Training, Stud Services, Vet, Boarding, Birds for sale
Breeder Contact Info
Puppies for sale
Testimonials (2)
Submitted by: FRANK A FOLEY on Apr 12, 2021
We picked up our new little boy this past weekend and he is adorable. We have owned Irish Setters for over 40 years. Although it is early our new puppy (Seann) is remarkably smart. We could not be any happier with him. Carlos is outstanding all his puppies looked great. All had great personalities especially the mother, she was such a cuddlier. Carlos loves his dogs and calls them his babies. I highly recommend him if you are looking for an Irish Setter.
Submitted by: Carolina Ocampo on Apr 02, 2017
Very pleased with my puppy. He is the prettiest Irish Setter I have seen. All the dogs at the kennel were so well behaved and VERY well taken care of. Carlos truly cares about all of his dogs and would highly recommend him to anyone looking for a loving beautiful dog.
Submit your testimonial