Tracy's Chessies - Florida Chesapeake Bay Retriever Breeders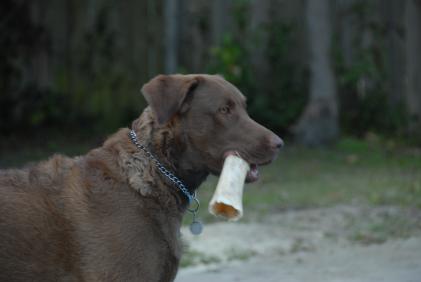 About Tracy's Chessies
AKC REGISTRATION PAPERS ALREADY AVAILABLE FOR EACH CHESSIE PUPPY
Announcing the litter of KINGKAHME HAMEHA 90 lbs and BIG O'S COLDWATER MIXON 75 lbs
4 Males and 8 Females - PUPS AVAILABLE JUNE 29th, 2011
Meha & Mixon's pups will prove to be both excellent family companions and promising competitive hunters. Mixon is the granddaughter of Gunners Lakeshore Rocket, featured on the 2002 Illnois and 2007 South Carolina Duck Stamps.
Pedigrees available upon request.
Hunting Dog Breeds Raised
Chesapeake Bay Retriever
Breeder Contact Info
Testimonials (1)
Submitted by: Lisa Felix on Jun 11, 2011
I have been around these dogs since birth and they are all healthy, happy and well take care of. Tracy is a full time dog-mom and makes sure these pups have everything that they need. As a former dog trainer myself, I have temperament tested them and assisted in paper-training and early water-training. The mother is one of only 2 dogs I have ever seen who will dive 10ft underwater for a toy, and she will do it over and over all day till Tracy makes her stop. Whoever gets one of these dogs will be raising a champion, and wonderful new member of their family.
Submit your testimonial