Rooster Morgan Kennels - Florida Boykin Spaniel Breeders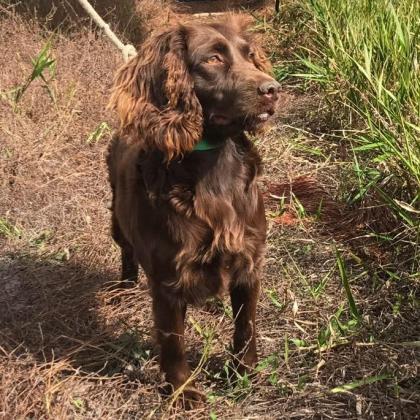 About Rooster Morgan Kennels
Rooster Morgan Kennels is a small, family owned and operated kennel focusing on Boykin Spaniels, guided quail hunts, and dog training. Our LBDs are trained to flush and retrieve ducks, dove, and quail. They love the water! They are part of our family, and as such, are great family dogs as well as hunters.
Litter with Rio (Sire) and Chloe (Dam) is expected the last week of September. Rio is BSS and AKC registered. Chloe is BSS registered and soon to be AKC registered. Rio and Chloe have champions in their bloodline - pedigrees for both LBDs are available. Puppies are $1000 for males or females and a $200 deposit is needed to hold your puppy.
Please visit our Facebook page at Rooster Morgan Kennels to see pictures and videos of our beautiful Boykins.
Hunting Dog Breeds Raised
Boykin Spaniel
Additional Services
Hunting, Training
Breeder Contact Info
Testimonials (3)
Submitted by: Eliza Gray on Aug 28, 2018
Lou and Carla Daniels of Rooster Morgan Kennels are so wonderful and welcoming.
We have a fantastic 16 month old youngster, Cooper, from Fancy and Rio's first litter. Cooper is smart, sweet and funny; keeping us entertained constantly.
We do not hunt, but have always had gun dogs because they make, in our experience, terrific family dogs. When we were looking for a new dog, I came across Boykins, which reminded us of the American Water Spaniel we had had, and not being familiar with the breed, I contacted Lou and asked if we could meet his dogs so we would know more about the breed when we decided on a dog. We arrived and were treated to meeting Fancy and the babies - wonderful. We then met Rio and we were hooked! Prior to leaving Rooster Morgan Kennels we had put a deposit on our pup.
We have been so pleased with Cooper and our experience with Rooster Morgan Kennels. Carla and Lou are the best and have amazing dogs!
Eliza Gray
Submitted by: Brandon Purvis on Jun 28, 2018
Rooster Morgan Kennels is a great place to find a Boykin Spaniel. They are extremely easy to work with and make finding the perfect dog easy. I bought a young male and named him Riley. I got him at 8 weeks and after a few days we became well acquainted. He immediately loved the water and showed great swimming skills. He was naturally able to smell and hunt very well from the start. I worked with him retrieving dove at around 5 months and he caught on fast. His first water retrieve was a Canadian Goose at 7 1/2 months old. The goose was bigger than he was but he still managed to retrieve the bird to the bank! He also retrieved several ducks throughout the rest of the season. He is currently 14 months old and is the best all around dog anyone could ask for. He is great with kids and other dogs. He loves to ride in the truck or go to the river. When it's time to hunt, his focus turns like a switch. He will hunt until he finds what you send him after or until you call him off. He is extremely fast and agile for his size. His size is perfect for hunting. He's light enough to easily pick up and he's small enough not to be in the way. Rooster Morgan Kennels receives 5 stars from me. They have great service and produce amazing dogs.
Submitted by: Larry Campbell on Jun 27, 2018
I can't say enough about Boykin Spaniels and especially Rooster Morgan Kennels! I have had working dogs my whole life and even my parents were breeders. Sorry mom and dad...you cannot hold a candle to the level of care and personal commitment Lou and Carla give to their stock, puppies, and support to the newly adoptive parents!!! ❤️❤️❤️
Submit your testimonial