Rippling Waters Chesapeakes - Florida Chesapeake Bay Retriever Breeders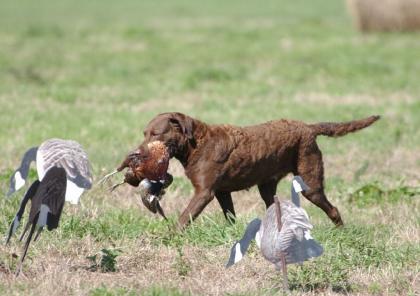 About Rippling Waters Chesapeakes
Established in 1991, Rippling Waters Chesapeakes (a certified AKC Breeder of Merit) is located in the Panhandle of Florida, about an hour's drive east of Pensacola. We selectively breed for pups with sweet, friendly dispositions, combined with intense retrieving desire, an eagerness to please, and correct conformation. We aim to produce puppies that are suitable to become excellent family members, hunting companions, conformation dogs, as well as top-level agility and hunt test competitors. We take great pride in a long history of producing puppies that grew up to excel in multiple disciplines. We hold the record for breeding more AKC show Champions that have also earned the AKC Master Hunter title than any other Chesapeake Bay Retriever kennel. One of our dogs is tied for the record of most passes at the AKC Master National retriever hunting test. We have produced two UKC Grand Hunting Retriever Champions. Additionally, we have produced two dogs that were ranked as the breed's number one agility dog in the nation for multiple years. In other words, we don't just talk about producing true dual purpose dogs, we have a long history of actually doing it (with the titles to prove it). Here at Rippling Waters we personally compete with our own dogs in conformation and both HRC and AKC hunting tests through to the Hunting Retriever Champion and Master Hunter levels. We typically compete at the Master National yearly. With extensive experience in training dogs, we gladly offer expert training and general care advice to our puppy customers. All of our breeding stock carries OFA hip, elbow,and eye certifications in addition to having been tested for PRA, DM and EIC. Stud service is available to approved bitches. Our planned litter will be sired by GCH CH Int'l CH Rippling Waters Brown Bart, JH and the dam will be CH Rippling Waters Whirly Girl. Both parents are extremely friendly AKC show Champion with high hunting drive. Both have very strong pedigrees for hunting, hunt tests, and conformation, so it is expected that these pups will have what it takes to achieve their owner's loftiest goals. Pups are handled daily. By the time they are eight weeks old, they will have been routinely wormed, will have had dew claws removed, will have their first set of shots and are sold with a veterinarian's certificate of health. Hip and eye guarantees provided. Puppy Aptitude testing is done at 7 weeks of age. Although we do not breed often or have a website, we encourage inquiries via email at ripplingwaterschesapeakes@yahoo.com. (850) 305-1795. Please visit our Rippling Waters Chesapeakes Facebook page.
Hunting Dog Breeds Raised
Chesapeake Bay Retriever
Additional Services
Stud Services
Breeder Contact Info
Testimonials (6)
Submitted by: Carol Cassity on May 12, 2017
I have had seven Rippling Waters Chessies from over twenty years. Their temperament, trainability and drive are all outstanding. Kathleen and Alan are integrity driven individuals and I would have no hesitation getting another RW Chessies.
Submitted by: Hunter Daisey on Mar 08, 2016
My search for a Chessie puppy started about 3 years ago. I knew exactly what I was looking for In a puppy. being a guide on the Chesapeake I needed a dog that could keep up be friendly with guest and their dogs, trainable and be a joy to have in the house and lodge. That's when I came across Kathys page on gundog breeder and gave her a call and we talked dogs. After she got to know me a good bit and I got her stamp of approval she let me in on a secret that she had a litter on the ground with one female unspoken for that would be a great fit for me and what I was looking for. Know this is what set her apart from many breeders I have spoken to. She told me she wanted me to think it over talk to my girlfriend check out the pedigree she sent me pictures and said to get back to her when I was sure it was the right fit. We thought about it talked it over and 6 weeks later made the trip from the Eastern Shore of Maryland to Crestview Florida. By far one of the best decision I hav ever made Kathy and Allan are great folks that have forgotten more about dog training then any big time trainer I have ever met knows. Allan went over just about everything I need to get me started on the right foot with training. All of their dogs where so beautiful,friendly and a pure example of what a good Chessie should be! out Kona girl is 11 weeks and already now sit and stay,lay,right,left and back hand signals she is heeling on both sides has been introduced to gunfire and water with no issues. She is a pleasure to have in the house and In the boat I hav in the back yard on the ground for training even though neighbors think I'm nuts! If you are thinking of getting a pup from Kathy and are still reading this save i can promise you won't regret going with a Chessie from rippling water they are A plus right down to the last pick!!!!
Submitted by: Betty Westbrook on Jan 13, 2016
I have purchased two puppies from Rippling Waters. Both became conformation champions and master hunters.They were wonderful house dogs and a joy to live with. They both were trained at Rippling Waters and were smart and easy to work with.The training they got at Rippling Waters excellent and humane.
If I ever buy another puppy it would come from Rippling Waters.
Submitted by: Susan Hyde on Jan 12, 2016
Conformation, health, hunting ability, obedience, agility, and loyal family members -- Rippling Waters Chesapeakes truly have it all and can do it all. Kathy and Alan Luthy are well known in our breed for producing multiple GCH/CH/MH dogs, many of whom have qualified for the Master National. I have been associated with the Luthys since 1996, and had the pleasure of being owned by two of their dogs. They are supportive throughout the lives of the dogs that they produce. They are wonderful people with wonderful dogs.
Submitted by: Barry Peter Sales on Jan 11, 2016
Kathy and Alan Luthy (Rippling Waters) are outstanding people.My wife and I are proud to say
we are their clients and friends.
Kathy trained my older male (from another breeder) all the way to the Master Nationals.
She is the breeder of my younger male (Rippling Waters Kodiak Brown 6yo) who is extremely handsome and a driven worker who is deeply committed to his family.He passed all health clearances.
Kathy (and Alan) are extremely knowledgeable and conscientious breeders and trainers who exhibit the highest ethical standards in all their dealings and are a pleasure to work with.
Barry P Sales (bpsrnr@aol.com)
p.s. Persons seriously considering purchasing a Rippling Waters pup may feel free to contact me.
Submitted by: Jim Righter on Jan 10, 2016
I have two Rippling Waters Chessies, a three year old female and a 9 month old male. Both dogs are affectionate,family oriented, biddable and beautiful dogs. I have been watching Alan and Kathy's dogs at hunt tests for over ten years and have always been impressed by their calmness and performance.
Submit your testimonial