Black River Boykin Spaniels - Florida Boykin Spaniel Breeders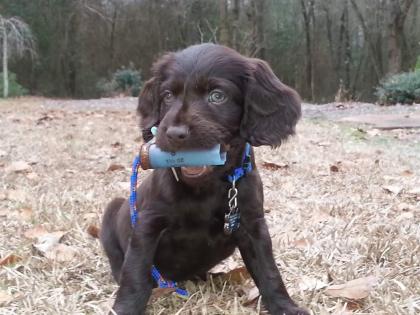 About Black River Boykin Spaniels
We are a small, in home, private, program of high caliber Boykin Spaniels, only. We strive for expert hunting ability and temperament, while making every effort to maintain the highest health, hunting,and conformation standards. We DO NOT breed, or breed to, ANY genetic carriers. All of our dogs are EIC and DM clear and we only breed dogs with passing OFA or PennHip clearances. We have, on average, one litter every 3-5 years. All pups go to new homes around 10-12 weeks and are exposed to water, wing, crate training, children,and basic obedience. Any pup sold will come with an extensive sales contract with Limited Privilege breeding options, including a lengthy owner back ground check. In addition, we do not follow the common thought of "first deposit gets first pick". We get to know our extended families and place the correct puppy with it's new family based on the needs of the family. Our new families have lifetime support from us and we encourage you to contact us for references. We are currently in the process of converting ALL of our dogs from BSS registration to AKC/UKC registrations. We feel this has become necessary due to our expanding future AKC and HRC competitions, as well as, the overall health of the breed. Feel free to email for further information on future litters.
Hunting Dog Breeds Raised
Boykin Spaniel
Additional Services
Stud Services
Breeder Contact Info
Testimonials (2)
Submitted by: Don Kennedy on May 14, 2020
I spent over an hour speaking with Kelly (Via phone) regarding her Boykin breed and I cannot wait to have a great Boykin from her line. Kelly is EXTREMELY knowledgeable in regards to the breed and i so, so hope to get an opportunity for a wonderful pup from her. Thank you Kelly!!
Submitted by: Kelly and Tommy Reeves on Apr 08, 2014
Have had a relationship with Kelly for a very long time.She is an awesome breeder and Takes great care of her dogs. They are her family. The dog we received from Kelly is very smart and a great retriever. He's also very sweet and loving. Kelly is in great standing in the Boykin spaniel society. Hope to be getting one of her great pups very soon.
Submit your testimonial