Silvercreek Chesapeakes - Delaware Chesapeake Bay Retriever Breeders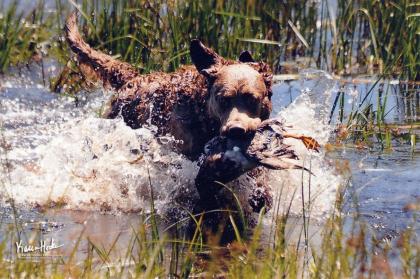 About Silvercreek Chesapeakes
NJ, OLDER PUPPY AVAILABLE, PUPPIES   AVAILABLE >Silvercreek   the Home Of the  All Purpose Chesapeake, conveniently located near NJ, MD, PA. Established in 1988 Joanne & Stan Silver pride themselves in breeding Chesapeakes for soundness , temperament, and quality. Before 1988 we had 15 years of experience with Golden Retrievers. Pups are available for hunting, companion, and most of all for love.
We are conveniently located in Northern New Jersey, northwest of New York City. Convenient to all major highways. Some litters are born outside of New Jersey.
Our Chessies are proven in the field, hunt tests, family companion, pet therapy visitations, multiple Group Winners, Best In Show, Best of Breed at The Westminster Kennel Club, and the World Dog Shows
Joanne has been involved with all levels of obedience and specializes in Puppy Kindergarten training and Pet Therapy Training. Information for puppy training available, assistance given, and we are always available for consultations. All breeding stock have their health clearances for eyes and hips unless otherwise indicated. Puppies come with health guarantees. Puppies available for shipment throughout the United States and the World.  Flights available out of Newark Airport Puppies occasionally, older dogs occasionally, Stud  Service All inquires  welcomed Occassionlly OLDER PUPPY  FOR   SALE, NEW JERSEY Puppies   Available Hunting  and  companion lines.  Excellent  temperaments and  drive,family See    website  for   details. Will  be on  birds
Hunting Dog Breeds Raised
Chesapeake Bay Retriever
Additional Services
Training, Stud Services
Breeder Contact Info
Testimonials (3)
Submitted by: patricia a krout on Feb 15, 2012
My Remington ( from Archie and Vanna ) just turned 3 and he has been wonderful. He is 110 lbs of love and fun. He still thinks he is a 10 lb lapdog. He is gentle with children, the elderly and when he knows another dog is smaller than he is. He plays with all dogs from Yorkies to Great Danes and Rottweilers and is great with them all. His temperment is so laid back we sometimes laugh at how he just sort of lumps along. My experience in getting him from Joanne was very easy and pleasant. Have to admit it was a wise pairing. Thanks Joanne.
Submitted by: Elizabeth on Apr 08, 2010
Our beloved Sivercreek Chesapeake is going to be 14 in June. He has been a certified pet therapy dog, hunting companion and most importantly beloved pet to his family for all of these years. I've had dogs all of my life, but never as devoted a companion as Beau. Although he is older now, he is always ready to greet his "children", go for a walk or go to work. I will miss him when he is no longer with us and I thank Silvercreek Chesapeakes for introducing us to such a wonderful animal!
Submitted by: robin on Feb 22, 2009
We got a wonderful puppy from Silvervreek!. He is everything we were told and more.
Submit your testimonial