Timber Trail - Connecticut Small Munsterlander Breeders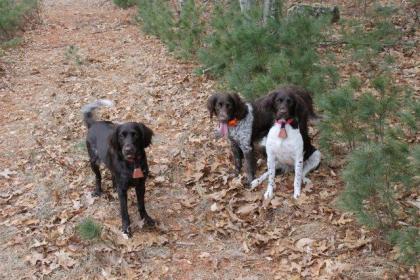 About Timber Trail
We are Southern New England based and your source of Small Munsterlander puppies for New England and the East Coast. We only sell pups to hunting homes. Timber Trail kennel is a member of the Genetic Health Project and of the Cooperating Breeders Group, of the SMCA. There is no incidence of hip dysplasia in the ancestors of our pedigrees and we only breed dogs with certified hips and who have tested and passed in the NAVHDA testing system. Our breeding program is designed to produce dogs with sound conformation, temperament with an excellent instinct to point, retrieve, track, and swim. Our focus is on those attributes that a North American foot hunter wants in a versatile hunting dog. Sending an e-mail is the quickest method of contacting us and allows us to send you photos!
When you purchase a puppy from Timber Trail, you receive the following:A healthy SM puppy who is up-to-date with its puppy shots, worming and dewclaws removed, International Microchip for identification if lost or stolen, A 3-year health guarantee, SMCA pedigree which includes one year's complimentary SMCA membership, NAVHDA pedigree, We will assist you in any way we can to prepare your SM puppy for the NAVHDA NA Test.
Please visit our website at http://www.timbertrailkennel.com/home or our Facebook page under Timbertrail small munsterlander at https://www.facebook.com/small.munsterlander.timber.trail for more information about our dogs.
All of our adult dogs live in our home 100% of the time and all of our puppies are raised in our home around people 100% of the time. We go to great effort to properly socialize puppies with both humans and adult dogs. We do not ship puppies, all puppies must be picked up in person. We do not allow our puppies to go to their new homes until after 10 weeks of age. We are fortunate to own a large property with room to explore. We have a 1 acre pond and 1/2 mile of river frontage so all are exposed to water very early in life.All of our litters have been awarded both NAVHDA and SMCA Breeders Awards, which is awarded to litters where at least 4 of the puppies from a litter have passed the NAVHDA NA test.We know you will be satisfied with one of our puppies.
Hunting Dog Breeds Raised
Small Munsterlander
Additional Services
Stud Services
Breeder Contact Info
Testimonials (1)
Submitted by: David Leitner on Jan 04, 2011
Timber Trails raises the highest quality gun dogs in a warm and nurturing environment with lots of early exposure to birds, water,children and dogs. These dogs are socialized as puppies and will make great family pets and hunting partners.
Submit your testimonial